There lies a rain shadow area between the Annapurna and Dhaulagiri region. That's Upper mustang where thousands of trekkers visit yearly. The mighty place is not only famous among the tourist but also locals. They wish to visit Mustang region once in their lifetime. Upper Mustang trek in August is joyful with moderate rainfall, clear sky, and beautiful landscapes of mountain ranges.
Past time, people often misspelled the word 'Mustang' and pronounced like 'Moostang' and 'Mustang'. You don't face any hamper above Kagbeni in Monsoon. Just remove the burden of lousy weather, trek and make your every trekking day perfect. On the full moon day of August, the local celebrate Horse festival for 3-4 days with joy and happiness. The festival starts from Lo- Manthang, travel lower part with the horse race, archery, dancing and celebration all day. It's so fun going to the Upper Mustang trek in August.
August falls under monsoon season and is the ideal month for trekking to Upper Mustang region. The Upper Mustang trek offers you old Buddhist Kingdom of Mustang. Rocks and its impressive formations surround the area. Reaching the capital of upper Mustang, Lo Manthang is the goal of every trekker. Mt. Nilgiri, Mt. Dhaulagiri, Mt. Annapurna including other higher peaks, Kali Gandaki Gorge, Tibetan and Buddhist Art, Culture, Religion, and tradition are the major attractions of the Upper Mustang trek in August.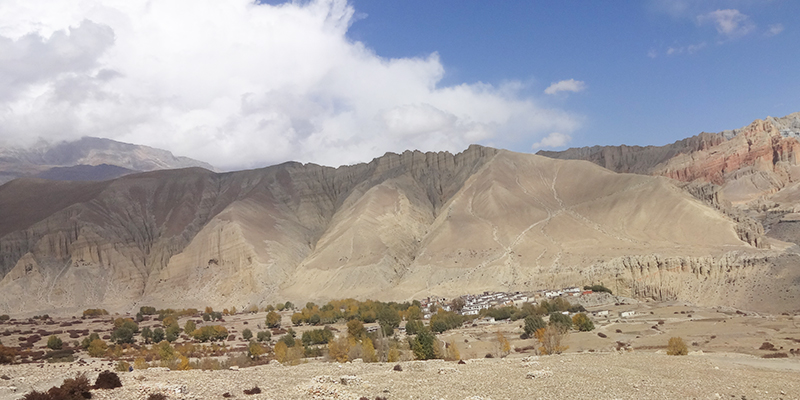 Highlights of Upper Mustang Trek in August
Free from Muddy and slipper Trail
No danger from Muddy and slippery trail because Upper Mustang receives very less rainfall, can say no precipitation during the August. This ultimately results in your happy and exciting path.
No Leech and mosquitos on the trail
The region is moderate with less rainfall. Do you know that the rain brings insects in the area? Also, the altitude is less. That results in the absence of leeches and mosquitoes. Crystal clear sky and beautiful landscapes of mountain ranges: Let me make you clear that you won't see clouds blocking the views. The visibility is clear; wild weather makes our day go well. Without any doubt, plan for the Upper Mustang Trek in August.
Weather and Climate of Upper Mustang Trek in August
Curiosity trekking to a new destination, enjoying with the difficulties on the trail is what a real trekker do. Generally, the weather is windy during the evening time in August month. The chilling wind would make a light path. Since the upper Mustang region lies in the rain shadow, all the rain clouds are blocked which makes your trekking more interesting. Generally, the temperature is perfect for trekking. 13-20 degree Celsius is the day temperature and -3 to 0 degree Celsius at night. The slow blowing wind hits your chicks, and you feel a certain kind of energy throughout the day.
The crystal clear skies, high mountain ranges beautify the trekking journey. The climate, temperature favors your upper mustang trek in August. That's why most of the trekkers around the globe prefer this month especially for trekking to Upper Mustang region.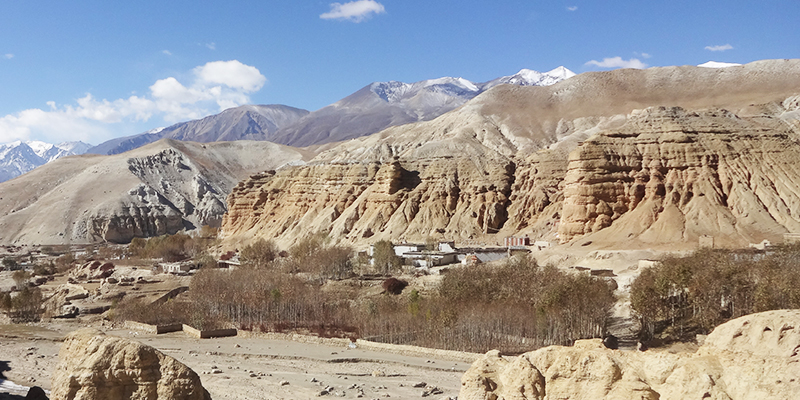 Solo Trekking to Upper Mustang
Let us make you clear that the solotrekking to the Upper Mustang region is not possible. Upper Mustang area falls under the category of the restricted zone in Nepal. The Government of Nepal has completely banned going solo trekking to this area. You need to cooperate with any of the travel company, hire a guide and a porter for trekking to Upper Mustang region.
Clothing Details for Upper Mustang Trek in August
You can carry rain gears because the weather is unpredictable in this area. It may rain at any time. Moreover, snowfall may occur. Carry crampons and make your body safe from it. Humidity may be a problem this month. Make sure you carry clothes made up of fabric. Don't take cotton clothes with you. Carry a sleeping bag, waterproof covers, and insect repellant because if it rains heavily, you will face leeches and mosquitoes on the trail. However, the chance of heavy rain is very less during August in the Upper Mustang region.
Transportation for upper Mustang Trek in August
Air transportation and drive through Jomsom are the means of transportation. However, Air Transport is highly recommended because the trail would be rugged, slippery due to rain and difficult for driving. The visibility may cause a problem for road transportation. That's why to go with Air transport for your safety.
Upper Mustang trekking permit Cost
Annapurna Conservation Area Permit(ACAP): NRs 3000 ($30)
Trekker's Information Management System (TIMs): NRs 1000 (10$)
Additionally, it would help if you had a Restricted Area Permit which cost USD 500 for ten days and $50 for every day after these ten days.
Safety Tips
Make sure to carry all the required clothing gears and equipment
Take short routes avoiding the longer one
Hire expert government certified guides. Contact us for it
Pre-planning about the trek is essential for a happy and safe journey
Test the guides asking them questions regarding the trail before you go for the Upper Mustang trek in August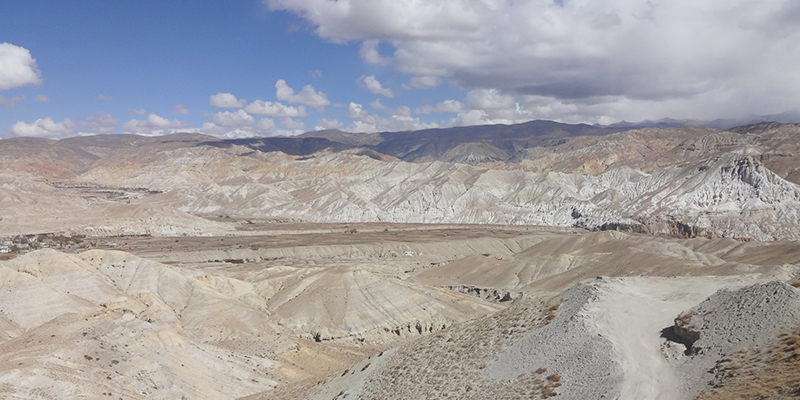 Accommodation and Meals at Upper Mustang Trek
Lodges and tea houses are open. They will be waiting for you because the number of trekkers is less this month. You can have multiple options to choose rooms. Enjoy the hospitality and get in touch with the local's culture, tradition, and lifestyle. You can find western dishes in some of the lodges too.
Conclusion
August is a very good month for trekking to Upper Mustang region. The scenario, mountain views, forest areas would attract you. The rainfall is less with the absence of leeches and mosquitoes. Moreover, it would be adventurous, the enchanting journey to the Upper Mustang Trek in August. Besides this, many other trekking destinations favor in August. Please don't Hesitate to Contact us for any queries and questions. We are 24 hours available online for you.