About Everest Base Camp Trek
Kick off your dream of standing at the base of the world's highest mountain with our adventurous Everest Base Camp Trek 14 Days. Everest Base Camp Trek will always be a marvelous trek in the Himalayas. The trek is more than adventure and thrill. You will be having intimate encounters with the locals along theEverestBase Camp Trekking route and get to know their lifestyle, culture, tradition, and beliefs.
Likewise, the Everest Base Camp Trek route is a paradise for nature and bird lovers. The trail ascends through the Sagarmatha National Park, which is home to hundreds of flora and fauna. You will be trekking through beautiful forests of rhododendron and pine, crossing suspension bridges, waterfalls, streams, and picturesque villages.
Everest Base Camp Trekking offers a sense of significant achievement. Fighting through thick and thin during the trek, you will reach the lap of Mt. Everest (8,848 m)- EBC at 5,364 meters. The Everest Base Camp Trek further ascends to Kala Patthar (5,643 m), a famous viewpoint just above the EBC. You can see gorgeous sunrises with 360-degree views of Everet from this place.
The views throughout the Short Everest Base Camp Trek 14 Days are unbelievably astounding. Serene surroundings with fresh air, chirping of birds, and tall snow-clustered Himalayan mountains become your companion. During the Everest Base Camp Trek in Nepal, you will also be visiting ancient monasteries and stupas. Every few meters have fluttering colorful prayer flags or prayer wheels to bless the travelers.
Make your dream of a trek to Everest Base Camp a reality with us. We offer tailor-made Everest Base Camp Trek packages as well. We have opened booking for Everest Base Camp Trek 2022 fall. Get in touch with us for information regarding Everest Base Camp Trek costs or other queries.
Everest base camp trek for beginners
Yes, you read it right. A beginner can do the Everest base camp trek. Our Everest base camp trek package is designed to make it true for novice trekkers to reach the lap of Mt. Everest. Our team will make sure you reach the base camp and return safely. We assist you in packing and preparation.
If you think your body cannot cope with the walking and the high elevation, you may consider our Everest base camp helicopter tour. Likewise, if you cannot give two weeks, and so, to trek to EBC, then the Everest base camp trek with helicopter return makes a great alternative.
We have a range of options to trek to basecamp Everest. Therefore, you'll always find something with us. We also organize private treks and custom design Everest Base Camp Trek itinerary for our guests. We aim to take as many dreamers to EBC as we can safely, and we have been doing so for years. You do not have to worry about trekking to EBC if you are new to trekking. We'll take care of you.
Major attractions of Everest trekking
The Everest base camp trekking offers a lifetime experience, no doubt. You get to see phenomenal mountains and learn a lot about the lifestyle in the Himalayas. The journey is full of learning and experience.
Below are some of the major attractions of the Everest base camp trek:
Flight to Lukla
Lukla airport is located at 2,860 meters. It is one of the highest airports in the world. The small runway and the air route to this airport make the flight experience nerve-racking. The aerial views of the Himalayas during the flight are out of this world too.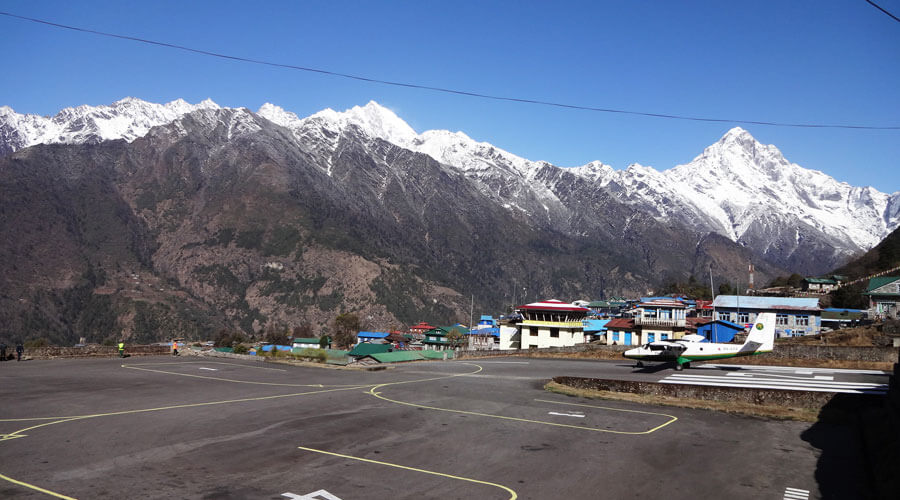 Sagarmatha National Park
The Mt. Everest trekking route is in the Sagarmatha National Park. The park begins from Monjo onwards and goes up to Everest. The Sagarmatha National Park has a diverse climate that ranges from subtropical to the alpine zone.
The park has numerous forests, rivers, waterfalls, gorges, marines, lakes, and whatnot. On the route to EBC, you come across many of these natural wonders. Likewise, the flora and fauna are abundant too. Home to hundreds of species of birds, wildlife, and vegetation, the trail is extremely enriching.
Everest View Hotel
Everest View Hotel is a luxury lodge hotel. At 3,880 meters, this hotel is one of the highest luxury hotels in the world and also holds the record in the Guinness World Record Book. The modern contemporary architecture of the hotel amidst the giant mountains and green hills is like heaven.
The most unique thing about this world is you can see the view of Mt. Everest and other mountains from all of its windows. During our acclimatization day in Namche Bazaar, we hike to Hotel Everest View to enjoy the mountain panorama.
The rich culture of the locals and ancient monasteries
What makes trekking in the Everest region even more compelling is the locals and their practices. Most of the locals here are followers of Buddhism or Tibetan Buddhism. The trekking route presents a glimpse of the cultural richness of the region. You'll come across numerous monasteries, stupas, Chortens, prayer wheels, and prayer flags while walking.
Not only that, we visit some of the significant monasteries too on the way to EBC. For instance, the Tengboche monastery is the biggest monastery in the Khumbu region that we get to visit in Tengboche village. Likewise, Khumjung Monastery and Pangboche monastery are a couple of other monasteries that we are more likely to visit.
Namche Bazaar
The famous Sherpa town and the tourist hub of the Khumbu region, Namche Bazaar, is located at 3,440 m. This is the most developed town in the Himalayas with modern facilities like WiFi, ATM lounge, good network, luxury lodges, souvenir shops, gear shops, cafes, and a wide range of food availability.
The town is home to legendary Sherpas and people of other communities. On the Everest base camp trek, we spend a couple of nights in Namche Bazaar. It's our acclimatization point. The village has multiple hiking routes and a museum.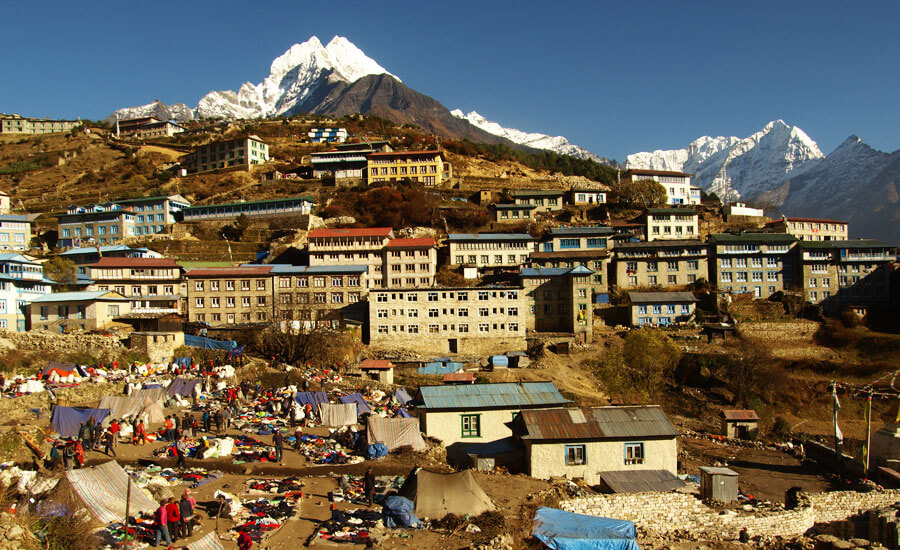 Leave the lush green hills and verdant rhododendron forests and enter the alpine zone
The lower part of the Everest base camp trekking route (up to Dingboche) mainly passes through lush woodlands of fir, pine, rhododendron, juniper, etc. The hills are covered with forests. There are lovely streams and waterfalls.
From Dingboche village onwards, you leave the treeline behind and walk alongside shrubs and terraced fields. As the elevation has gone above 4,000 meters at this point, you can see the change in landscape and feel the air pressure.
The route soon turns into boulders and rocks. You pass by gorges and walk along the lateral moraine of the Khumbu glacier. There are frozen streams and gorges in the upper part of the trail.
Everest Base Camp and Kala Patthar
The main highlight of the Everest base camp trek is the Everest base camp at 5,364 meters and Kala Patthar at 5,550 meters. Reaching these places is a huge achievement for any human. First, we make our way to EBC. It's marked with a rock and prayer flags. You can see numerous tents of mountaineers on the base camp in the peak trekking season.
As the view of Mt. Everest is blocked from its base camp, so we hike to Kala Patthar the next day to enjoy it. Kala Patthar is a famous viewpoint that offers 360-degree views of snow-capped Himalayan mountains. It is located above Gorak Shep.
At Kala Patthar, our ascending part ends. From here, you trek back to Lukla or have the option to take a helicopter flight back to Lukla/Kathmandu. If you choose a helicopter flight, which is a great choice, you have to bear additional charges. If you are trekking in a group then per head cost will not be that high for a helicopter flight.
The mountain views and diverse landscapes
We have already talked about how mesmerizing the views are during the Everest base camp trekking. Still, we cannot miss it in the major attraction part. The Everest base camp trek journey is adventurous and overwhelming for sure. However, walking amidst giant mountains and hills will proffer peace to your soul.
The landscapes are breathtaking. You'll get to unwind your thoughts as the majestic mountains unfold themselves one by one in front of you. The remoteness of the region and the picturesque villages will make you feel at home. Everest base camp trek is a magical venture.
Why go on Everest Base Camp Trek with Adventure White Mountain?
Our experienced Sherpa guides and porters will keep you safe during the trek. We have organized hundreds of Everest Base Camp Trek to this date, which makes us incredibly knowledgeable and reliable. On top of that, our ventures are eco-friendly. We offer competitive cost and high-quality service while at the same time maintaining a friendly relationship with our guests.