Ever imagined that trekking can be exotic and sacrilege? No? Why don't you go to Annapurna trek? The region is widely recognized as a naturalist paradise. Annapurna BaseCamp trek and Annapurna circuit Trek are two different treks which differ by elevation. First one reaches an elevation of 13780 feet and the next one to 17,700 feet.
This is the moderate trek offering the beautiful views of mountains, forest, and nature. The trek is suitable for animal's lovers because the Annapurna region is the habitat of hundreds of birds and animals. The unique flora and fauna melts your heart, catches your eye and makes you relief. It's a paradise for the trekkers. Depending upon your physical fitness, you may choose Annapurna Circuit trek or Annapurna Base Camp Trek.
Annapurna trek covers the religion, culture, and tradition of the people. It's interesting to learn about their lifestyle. Annapurna II, Annapurna III, Dhaulagiri, Mount Fishtail, green paddy fields, hot spring, Glaciers, and Tilicho are the main attractions of Annapurna Trekking. Many People are interested in Why is Annapurna Trek among the most popular treks in the world?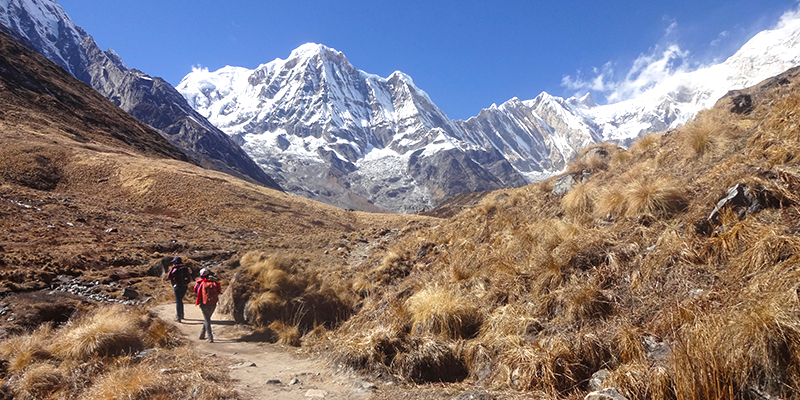 The Annapurna circuit is a World Party
Every year, more than 50,000 trekkers travel to Annapurna. Some even plan for Honeymoon trek to Annapurna. It's obvious the number of trekkers would annoy you on your trail. from October to November is the best months for Annapurna trek; you can hear varieties of languages on your trail. Every lodge seems to be full. You get a chance to make new friends from different part of the world.
The Annapurna trek has the best food
The traditional Nepalese food item, Dal Bhat can't compete with wild mushroom polenta, pizza, and burger. The food is cheap enough to make you a full whole day. Every trekker prefers to eat Dal Bhat just to relive memories the taste evokes. The new thing you will learn is to use your hand to eat the foods.
Astonishing views of Mountains
The view of Mount Fishtail at Ghandruk is lovely. As you look up from the edge of the Annapurna glacier, you will see the Annapurna massif. The Annapurna I, Annapurna III and Gangapurna ranges stun your eyes.
Trekking inside the forest of the Annapurna Conservation Area
On your trail from Ghandruk to Chomrung, Rhododendron, fern, and bamboo won't leave you. The forest becomes dense once you enter Sinuwa. The pleasant sounds of birds and animals and fresh air coming from tall Oak trees encourage you to trek towards higher elevation.
Destination of thousands of adventurous souls
It's always fun meeting new travelers on the trail and its cheers to life making them your friends and traveling together. You get enough time to exchange each other's ideas, views, countries features and many more during the Annapurna trek.
Best Time of the Year
Monsoon season in Nepal is June to September. That is when a large portion of the rain falls and when rock and mudslides are destined to happen. The spring, between mid- March and mid- April, is the point at which the Rhododendron woods sprout, however, the climate is wet this season and the bloodsuckers are an annoyance at the lower altitude. The best time to do Annapurna trekking is October to November.
September to November and February to May are Peak months for Annapurna trek
The beautiful scenario of nature can be observed during these months. The rainfall is low with moderate temperature. There is very less chance of mudslides and snowfall. The crystal clear skies make your photographs marvelous. The trail becomes adventurous because the number of ascending and descending and passes bring difficulties on your trek. The twinkling stars at night, the Annapurna glacier, welcoming sounds of birds and animals are lovely.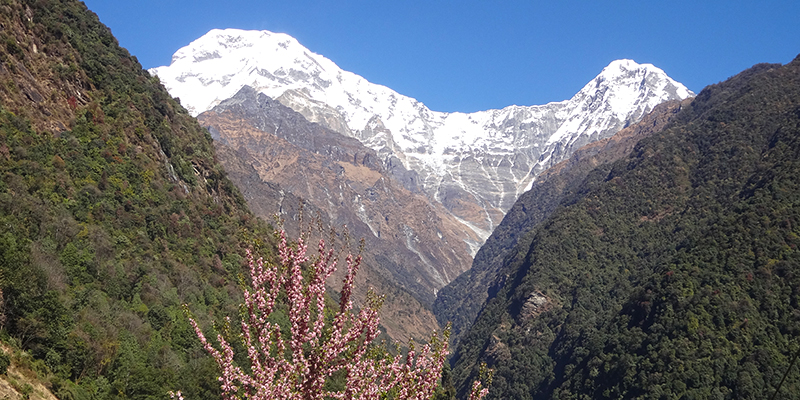 Main attractions of Annapurna Trek
Eye-catching views of mountain ranges like Annapurna I, Annapurna II, Annapurna III, Mount Fishtail and Tilicho Peak
Exploring beautiful Manang village
Scenic views of monasteries and rivers.
Relaxing time in Hotspring at Tatopani
What do you need to do before the Annapurna Trek?
It's nothing to worry about if it's not your first-time trek to Nepal. But, for first-time trekkers, fitness, clothing, mentally prepared mind matters a lot. Since its moderate trek, because the number of ascending and descending and passes are less so, the trail is easy. But, you will have to walk for 4-5 hours daily which requires your fitness. It's harder than it looks because you need to trek 13+ days for 5-6 hours per day. Sometimes, you may need to fill up your water bottle with river water. You won't have internet access on the trail. So, be prepared regarding the route earlier. Bring only what you need. The porters carry up to 25 kg bag. You have to show your humanity by bringing what you really need. So, the basic items include.
Hiking boots and a spare pair of inside shoes
Hiking pants and shirts
Underwear and shocks
Warm Jackets and trousers (Waterproof)
Sunglasses and gloves
Medical Kits