It's Nepal- a journey to thousands of high hills, mountain ranges, forest areas, rivers, suspension bridges, and traditional villages. Nepal is a peaceful country standing in the top position for most tourist visitors yearly. Words aren't enough for describing the beauty of Nepal, notably Annapurna Circuit Trek. It's the most trending trekking destination in Nepal.
Annapurna Circuit Trekking is moderate trekking destination taking you to the Base Camp of the tenth highest peak in the world, Mt. Annapurna. October and November is the best month fortrekking to the Annapurna region. The clouds are less with mild temperature. The chance of weather change is very less, and hardly you may face rainfall. Snowfalls on the higher hills will amaze you.
Annapurna circuit trek offers a spectacular landscape of Annapurna massif. It's exciting and dangerous crossing Thorang la pass located at an elevation of 5,416 m. Additionally, you will be trekking to upper Mustang. Mt. Annapurna I, Mt. Dhaulagiri, rivers, bridges, and waterfalls are the major attractions of Annapurna Circuit trek in Nepal.
The Annapurna circuit trek leads you to Muktinath temple, which is the holiest temple for Hindu and Buddhist people. You can also trek to Ghorepani poon hill which offers a marvelous glimpse of High peaks, traditional villages, and natural scenario. Trekking Annapurna region, especially Annapurna Circuit trek in October and November are the best and wise decision for exploring nature deeply.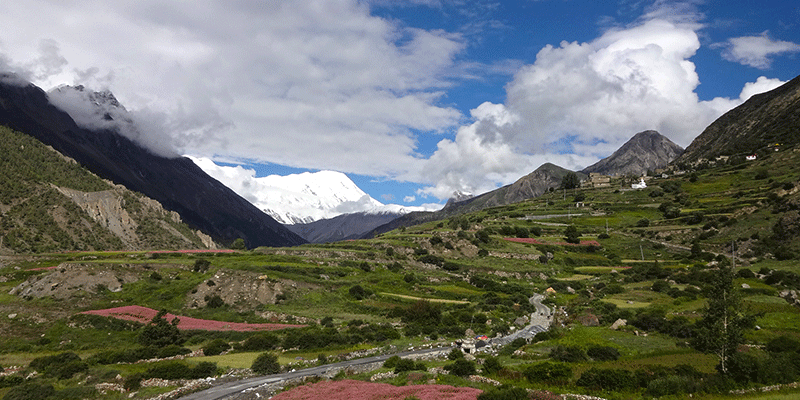 Highlights of Annapurna Circuit trek in October and November
Explore traditional villages of Nepal: Ghorepani, Ghandruk, and Manang
Crossing Suspension bridge offers mesmerizing views
The stunning landscape of Annapurna ranges and Mt. Dhaulagiri
Breathtaking time spend at Thorong La Pass
Get in touch with Sherpa, Gurung Culture, tradition, norms and values
Why Annapurna Circuit Trek in October and November
October and November are the king of all months for trekking in Nepal. The weather and temperature favor your trek. It's an autumn month with the stable weather condition and very less chance of snowfall and rainfall. Below are some of the reasons for Annapurna Circuit trekking in October and November:
Excellent Weather Condition
The weathers seem enormous with very little rain. The slowly blowing wind will make you feel relief during the trek. The temperature remains moderate, and the crystal clear amazes you. Overall, it's worth trekking to Annapurna Circuit.
Mesmerizing environment view
The romantic weather when mixed with glooming environment gives you a combo view of nature. You will get incredible views of rivers, lakes, traditional Sherpa and Gurung villages and many more on the trail.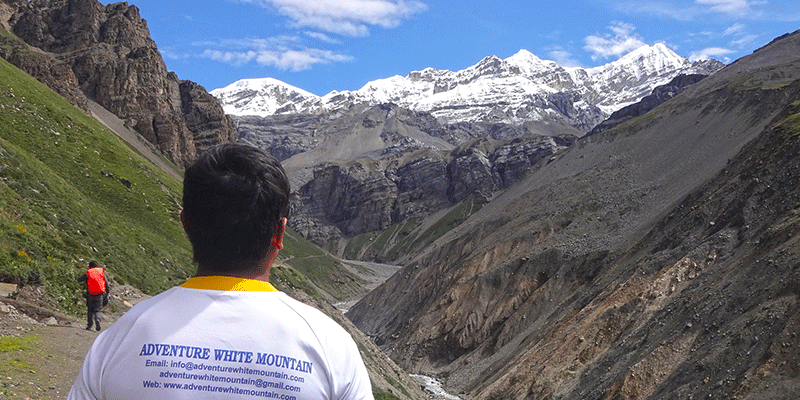 Morning view from Poon Hill
You can observe the sunrise view from the Poon hill during the Annapurna range Circuit trek. The striking landscapes of Mt. Annapurna and Mt. Dhaulagiri are lovely.
Season of the festival in Nepal
The major festivals of Nepal: Dashain and Tihar fall on this month. The Kathmandu valley looks empty with less public vehicles and less crowd. Ultimately, you get a peaceful environment to roam around the Kathmandu valley. Additionally, you will learn about significant Nepalese festivals.
Happy Trail
The trail is peaceful with a pleasurable environment. The smiling faces, welcoming words in lodges/hotels bring a smile on your face. The captures will change life long last.
Difficulties during Annapurna Circuit trek in October and November
Finding lodges for accommodation
October and November are the peak seasons for Annapurna Circuit trek. Nowadays, trekkers book the hostels earlier so that they don't face any problem. You may walk long hours to find the empty tea house. That's why it's highly recommended to book the lodges earlier the trek.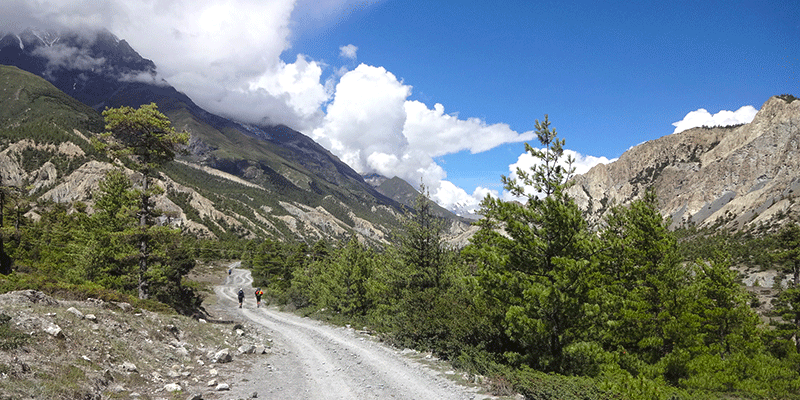 Elevation
There's always question on every trekker's mind that he/she will be able to cross the Thorong La pass. The level of oxygen reduces, which creates a breathing problem. Altitude sickness may catch you anytime.