Lobuche peak climbing offers you some spectacular sceneries of the range of mountains peaksand wild adventure in the Everest region. Generally, there are two Lobuche peak: Lobuche west peak and Lobuche east peak. Lobuche peak has an altitude of 6119 m and is situated in the Everest region. Though there are two ridges of this Lobuche peak, now we are going to enjoy the amazing experience of Lobuche east peak. The first summit attempt to Lobuche east peak was made by Laurance Nielson and Sherpa Ang Ganzlen on April 25, 1984. Not only you will enjoy the summit of Lobuche peak but also you will explore the breathtaking views of Mt. Everest (8,848 m), Nuptse (7,855 m), Lhotse (8,516 m) and many more peaks.
The trek to Lobuche east climbing begins with the scenic flight to Lukla from Kathmandu. Then after we will walk through Phakding and reach Namche Bazaar. From Namche Bazaar our trek continues following the trails through Tengboche and Dingboche to Lobuche. During the walk through the trail, you will get ample opportunity to experience the beautiful villages with local people mainly Sherpa and you can also explore their unique lifestyle. Likewise, beautiful rhododendron forests will give us company during the walk. You will enjoy even more when you get a chance to explore the monasteries and chortens. Numerous species of flora and fauna can be experienced as well.
The unforgettable experience of peak climbing and mind-blowing views of high peaks will definitely create a history book in your life after summiting this peak. You can visit the Everest Base camp and can enjoy the close-up views of Mt. Everest. Likewise, from Kala Patthar, you can witness other ranges and peaks. All together you trip sums up with great and worthy effort than you think.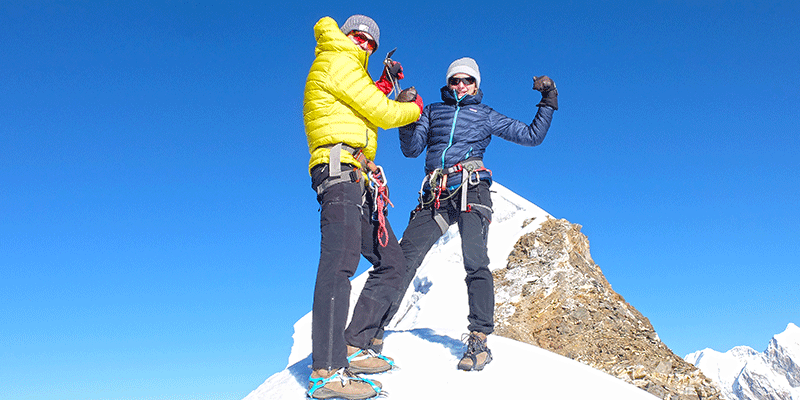 Team Composition
A licensed, English speaking and veteran climbing guide will be with you. Similarly. An assistant guide will be there to assist you with the group size of 2-4 peoples: there will be 1 main guide and 1 assistant guide. Guide and assistant guide will be provided according to the group size of the people. If there is the of 5-8 peoples there will be 1 main guide and 2 assistant guides. With the group size of 9-12 then there will be 1 main guide and 3 assistant guides. Other crew members will be included as the cook and other necessary Sherpa staff who will ensure that safety of you climbing to the peak.