About Lobuche Peak Climbing
"Lobuche Peak is a fantastic 6,000 meters above the mountain to kick start your mountaineering journey in the Himalayas. The relatively less technical climbing route and assistance of our experienced & friendly Sherpa guides make Lobuche Peak Climbing with Everest Base Camp Trek achievable for beginner climbers."
Known as a famous trekking peak in the Himalayas, Lobuche Peak has become one of the first choices for climbers who are looking for a straightforward climbing venture. It has two faces, Lobuche East (6,119 m) and Lobuche West (6,145 m). During our Lobuche Peak Climbing with Everest Base Camp for 19 Days, we conquer the east face.
Lobuche east peak is regarded as a trekking peak and is smoothly climbable. Whereas, Lobuche west peak is considered an expedition peak because of its technical side. Located above Lobuche village, Lobuche peak climbing is a remarkable once-in-a-lifetime trip. The combination of trekking and climbing in one package allows travelers to have an immersive experience.
Lobuche Peak Climbing in Nepal is all about pushing your limits, getting uncomfortable, unwinding, and relearning about the forgotten simple yet fulfilling lifestyle. The first of the journey takes you amidst the local community through lush rhododendron forests and lovely villages. You'll be trekking following the famous EBC trek route.
The trail covers all the famous villages like Namche Bazaar (3,440 m), Tengboche (3,860 m), and Pheriche ( m). From Pheriche, you'll ascend to Dughla by walking on a glacier path. Further, the trail ascends along the lateral moraine of Khumbu Glacier and leads you to Lobuche village. The following day, you hike to Kala Patthar via Gorakshep.
This ascend will help you acclimatize. After the ascent to Kala Patthar (5,545 m), you'll move towards the Lobuche base camp (4,900 m). Then comes the high camp (5,300 m) and you make it too to the summit of Lobuche peak (6,119 m).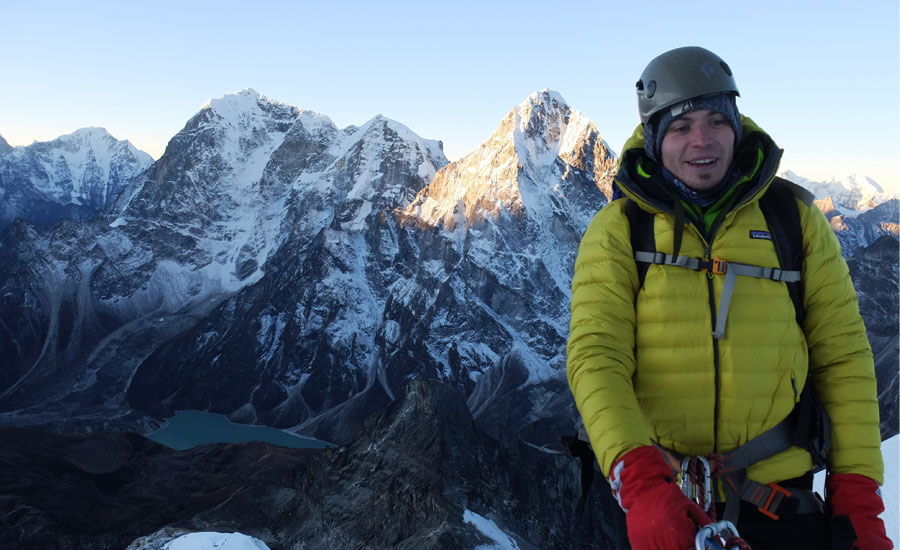 Views during the Lobuche peak climbing and Everest Base Camp trek
Talking about the views on Lobuche Peak Climbing with Everest Base Camp Trek, there's no limit to it. You'll find yourself above the clouds and witness surreal mountain landscapes. Some of the mountains one can see during the Lobuche peak climbing are Mt. Everest (8,849 m), Mt. Lhotse (8,516 m), Mt. Kanchenjunga (8,586 m), Island Peak, Mt. Cho Oyu (8,188 m), Mt. Makalu (8,463 m), Mt. Thamserku (6,608 m), Mt. Ama Dablam (6,812 m), Baruntse (7,162 m), Pumori (7,161 m), etc.
Similarly, the picturesque sceneries of the lush green hills, verdant valleys, waterfalls, rivers, villages, suspension bridges, and streams in the lower part of the trekking route are phenomenal. Once you leave the tree line behind, the landscape turns into green meadows and barren hills.
To enjoy furthermore best views, we continuously hike to viewpoints like Hotel Everest View (3,880 m) and Kala Pathar (5,545 m).
Lobuche east peak climbing difficulty
In terms of technical climbing ability not much is needed for Lobuche peak but the climbers have to be aware of the mountains. A high level of cardiovascular fitness is needed for Lobuche Peak Climbing. You have to be comfortable walking in a high alpine environment and can endure all its limitations.
Prior experience in mountain climbing is not needed but trekking and mountainous route knowledge will help you a lot. Our team will teach you everything you need to know at this peak, so do not worry. We usually have pre-climbing training sessions at the base camp to boost the climbers' confidence for the push.
What do we offer?
Our Lobuche Peak Climbing with Everest Base Camp Trek plan has been designed by highly experienced mountaineers and tested. We have the perfect itinerary and operational resources. Our team's understanding of the Himalayan mountains, complex routes, and recovery experience makes us a reliable climbing partner.
We keep helicopters on standby during the climbing period in case of emergencies and send a base camp doctor to make sure everyone in the group is fine before the summit push. Likewise, our team are well trained in the latest mountain rescue techniques and uses high-tech equipment while climbing.
If you are planning to climb the Lobuche peak or any other peak in the Himalayas, remember us. You couldn't be in safer hands than us. To book Lobuche peak climbing with the Everest Base Camp trek send us the booking request. Our team will help you with booking and preparation.
Also, check out our- Island Peak Climbing and Mera Peak Climbing.