About Mera Peak Climbing
"Mera peak climbing is the best climbing package for anyone looking to test their endurance capability and kickstart mountaineering in the Himalayas. It's a less technical mountain that fits beginner climbers who lack knowledge about climbing."
Mera peak is the highest trekking peak in the Himalayas. The fantastic location of the peak offers striking views of all the other surrounding eight-thousander mountains like Everest (8,849 m), Lhotse (8,816 m), and Makalu (8,463 m), Cho Oyu (8,188 m), and Kanchenjunga (8,586 m). Mera peak climbing is one of the best choices for naive climbers who are just starting their peak climbing journey in the Himalayas. It has the best grounds to introduce yourself to peak climbing and prepare yourself for more technical routes.
Situated in the Everest region, Mahalangur section, Mera Peak has three summit points; Mera South (6,065 m), Mera Central (6,461 m), and Mera North (6,467 m). The legendary Tenzing Norway Sherpa and Sir Edmund Hillary are the ones who established Mera peak as a practice climbing before pushing towards Everest. You'll learn a lot about climbing techniques and climbing gears on Mera peak climbing.
The straightforward snow-covered route to the summit of Mera peak welcomes hundreds of climbing aspirants every year. Amateurs get to use crampons, fixed rope, ice-ax, etc. Even though there are fewer technical sections, the high elevation, thin air, exposure to extreme weather conditions, and camping teach a lot of valuable things to the climbers.
Mera peak climbing in Nepal is the ultimate adventurous activity in the Himalayas. It's a relatively safe mountain to climb and offers a fantastic experience. You can book Mera peak climbing through our site. As the next climbing season is close, there couldn't be a better time than this to book your dream peak climbing with us and embark on a lifetime venture.
Mera Peak Trekking Part
Our Mera peak climbing package is more than just peak climbing. The itinerary involves trekking through beautiful mountain villages and dense forests. You get to see the mountain lifestyle and have intimate interactions with Sherpas. The stupas, prayer wheels, and monasteries along the trekking route explain a lot about the rich cultural heritage of the locals.
Similarly, the stunning views of eight-thousanders and other mountains like Ama Dablam (6,812 m), Thamserku (6,608 m), Pumori (7,161 m), Nuptse (7,861 m), Baruntse (7,162 m), Island Peak (6,160 m), Kongde Ri (6,187 m), etc make the trekking part phenomenal. The landscapes change with every turn in the route and take you across glaciers, frozen streams & moraines.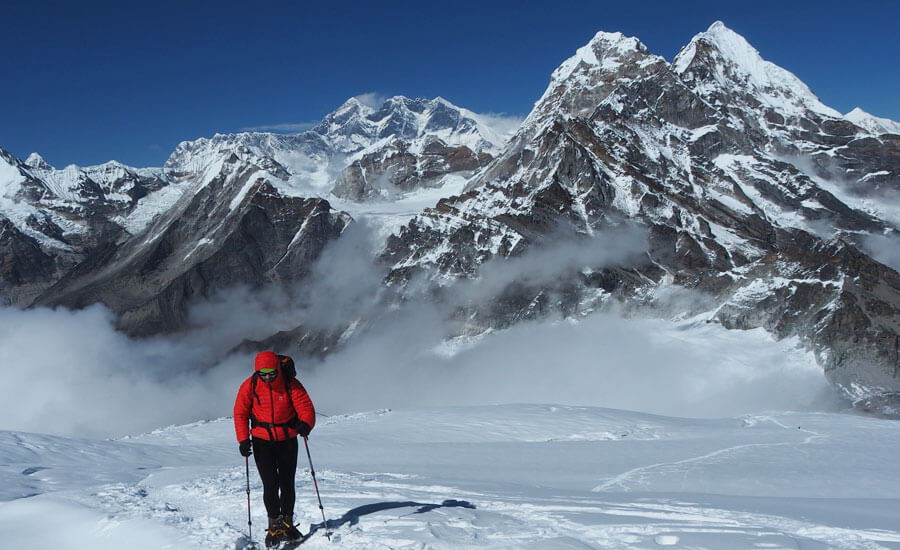 Climbing Mera Peak
Climbing Mera peak is not technically difficult, but it has a long summit day, and the route is exposed to many elements. The climbers have to take care of their hydration and pace. As you climb over a snowy route, a lot of energy is needed, and because of high elevation pressure, your body may get exhausted sooner than you can imagine.
Our Sherpa guides will fix the ropes wherever needed. You have to ascend following the safe line wearing crampons and using a walking ax. We carry all the essentials to the Mera High Camp (5,300 m), including tents, fuels, packed meals, etc.
Mera Peak climbing Distance
The Mera peak climbing distance is approximately 125 km. Regardless of the route you choose, it's the average distance covered during this venture. The trail up to the Mera base camp (5,000 m) is not straightforward like the summit route. There are numerous ascends and descends, which make this distance one of the major difficulties of Mera peak climbing.
Mera peak support team
During the Mera peak climbing, our experienced Sherpa guides, assistant guides, and porters will be assisting you (depending upon the group size). We will help you in getting ready for the trip from the moment you do booking. Our team will help you with physical fitness and packing.
In Kathmandu, we help in final packing and double-checking the climbing gears. We obtain all the necessary permits, so you do not have to worry about it. All the necessary equipment, hotel/lodge arrangements, domestic flight booking, etc, are done by us.
Once we reach the base camp, our crew helps you ascend to high camp. We have contingency days in case we have to face a bad weather window. The team also gives you basic climbing training to boost your confidence. We do have base camp doctors and supplement oxygen too. The doctor regularly monitors the health of the group and updates the office team. Likewise, we also regularly stay updated with the weather and connected with the office team through our satellite phone.
Emergency evacuation
The best thing about Mera peak is its location again. It is situated close to Lukla, which has pretty good health care facilities in the entire Khumbu region. If any medical emergency occurs, we quickly transfer the patient to Lukla or airlift to a hospital in Kathmandu.
We keep a helicopter and rescue team on standby during the summit push. Our team is well trained and has numerous years of expertise that ensures safe climbing. For odd cases, we are well prepared.