Pisang peak, one of the easier climbing peak among the trekking peaks in Nepal, lies at the elevation of 6091m. This peak lies at Annapurna region so climbing this peak certainly helps you explore more of Annapurna region. Standing tall above the Pisang village, it has shaped in a uniform slope of ice and pyramid in the summit. You must be physically and mentally fit to successfully climb this peak. Summiting this peak offers you astonishing views of Annapurna range like Tilicho peak, Annapurna II, Annapurna Iv, Ganagapurna and many other beautiful sights. You will also explore the highest pass of the world-Thorang La pass at 5416 m which will be another great achievement. Climbing Pisang with Ice Break Adventure will surely make your trekking more fascinating and interesting one.
Pisang Peak climb trip begins with the drive from Kathmandu to Dharapani enjoying the countryside views. Then after from Dharapani, we will start to walk towards Pisang via Chame and summit the peak. The trail leads us via Thorang La pass after completion of our summit and ends in Pokhara. Manang valley is another beautiful place to explore for while trekking at this peak. We can link with the local people of several villages and experience their unique lifestyle. While returning back from the summit, we will explore one of the famous Hindu pilgrimage site-Muktinath at 3800 m. Then from Muktinath, we will trek down to Jomsom to fly to Pokhara. Your adventurous Pisang Peak climbing with Adventure White Mountain will be unforgettable and lifetime experience.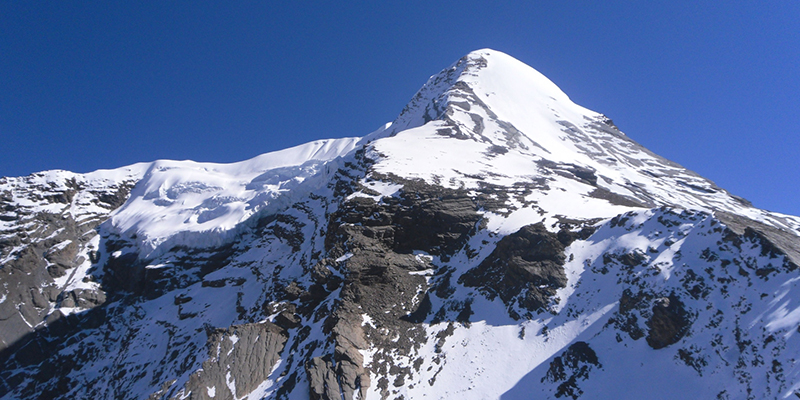 Trip Highlights:
Summit Pisang Peak at 6091 m.
Explore the Annapurna region with magnificent views of Tilicho peak and Annapurna ranges.
Thorang La passes at 5416 m –highest pass of the world.
Famous pilgrimage site-Muktinath at 3800 m.
Trip Facts:
Destination: Nepal
Group size: 2-12 person
Arrival on: Kathmandu, Nepal
Departure from: Kathmandu, Nepal
Max-altitude: 6019 m
Accommodations: Hotels in Kathmandu and Pokhara and tea houses during the trek
Meals: Breakfast in Kathmandu and all meals during the trek
Grade: Moderate
Day 01: Arrival in Kathmandu (1,300m/4,264ft)
When you arrive at Kathmandu airport, one of our staff from Adventure White Mountain will be there to greet you. After completion of airport formalities, you will be transferred to your hotel via our private vehicle.
Day 02: Kathmandu (1300m/4264ft): trip preparation
This day is set for sightseeing and trip preparation. You will explore some spiritual places of Kathmandu Valley like Monkey temple, Pashupatinath, Boudhanath etc. which are listed in the world heritage site. Then after in the evening, you have to be in our office for the arrangement of your trek. Your trek leader will recommend you the necessary gears.
Day 03: Drive from Kathmandu to Dharapani (1,960m/6,430ft): 11-12 hours
We will leave Kathmandu after having the breakfast. We have a long journey to travel today to Dharapani enjoying the countryside views like hills and mountains. We will be passing through the city of lakes-Pokhara while moving to Dharapani. Stay overnight in Dharapani.
Day 04: Dharapani to Chame (2,710m/8,891ft): 5 - 6 hours
From Dharapani we will leave for Chame today. Following the few steep forested ridges, our trails continue through the course of Landslide. While we walk through the trail we will enjoy the amazing views of Lamjung Himal, Annapurna II, and Annapurna IV. Before reaching Chame we will cross a small hot spring where we can have relax our body. Overnight stay at Chame.
Day 05: Chame to Upper Pisang (3,700m/12,136ft): 5-6hours
From Chame, our next stop will be Upper Pisang. The trail begins from dense fine forests and the narrow steep path which leads us to the curved rock face. While walking to upper Pisang we are rewarded by the stunning views of Himalayan peaks. After walking about thirty minutes uphill we will reach to Pisang.
Day 06: Acclimatization
This day is set for the rest day as well as hike around the local area of upper Pisang village. Our health expert will advise us not to remain idle for the whole day that's why we will roam around the local area of Pisang village. We will interact with the local people and experience about their lifestyle. The mind-blowing views of Annapurna, Gangapurna, and Tilicho will make our walk worthy.
Day 07: Upper Pisang to Pisang Peak Base Camp (4,380m/14,370ft): 4-5 hours
After breakfast, we move towards Pisang Peak Base Camp. Our trail goes through the thin forest and grassland. The grassland is used for grazing the Himalayan domestic animals. We will set up our camp on flat ground and stay overnight.
Day 08: Pisang Peak Base Camp to High Camp (5,400m/17,712ft): 3-4 hours
From the base camp, we will move to high camp which is one of the shortest days of the trek. We should reach as soon as possible in the high camp so that we can arrange our gears in time. The trail from base camo begins via south-west ridge ascending to High Camp. After reaching high camp we will set a camp and have a pre-training session. Pre-training always helps you to gain more skill and confidence. Overnight stay at High camp.
Day 09: Summit Pisang Peak and back to base camp (6,091m/19,980ft): 8-9 hours
This day is the major day of our trek. We will wake up early in the morning and take breakfast. We have to face mostly rocky trail today while ascending. Because of the steepness of the peak, there is not much snow. The rope is the major gears we need here, as around 70 degree of slope requires 200 m of rope. Fixed rope and the main rope will be used. After reaching the top of the peak we will spend some time and enjoy the breathtaking views of the surrounding peaks. Then after we will descend down to the base camp to stay overnight.
Day 10: Contingency
This day is set as a reserve day. If the weather will be unfavorable as our plan and itinerary then we can use this day to submit the peak but otherwise, if there will be no obstacle then this day is not necessary.
Day 11: Pisang Peak Base Camp to Manang Valley (3,450m/11,316ft): 5-6 hours
From Basecamp we will move ahead to Manang valley via Pisang Village. After reaching Pisang there are two routes which lead us to Manang valley. We will continue through trail goes via Upper Pisang and Geru. Via this route, we can witness the fascinating views of Mt. Annapurna, Pisang Peak, and others. After entering Manang we may feel more cold and dry. Overnight stay at Manang Valley.
Day 12: Manang to Yak Kharka (4,110m/13,484ft): 3 - 4 hours
The trail from Manang continues via the stream and then ascend to the Tenki village. From Tenki Village climb up continues via Marshyangdi Valley to the valley of Jarsang Khola. Then trail continues through the pasture, a scrub of Juniper trees, as we slowly gain the altitude. Before reaching Yak Kharka we have to cross a small river and old Mani walls in a pleasant meadow. Overnight stay at Yak Kharka.
Day 13: Yak Kharka to Thorang Phedi: (4420m/14501ft): 3-4 hours
From Yak Kharka the trail is uphill to Thorang Phedi. We will be in Ledar village crossing a suspension bridge. From Ledar we will climb up further and pass through the towering cliffs. While walking we have rewarded the best views of Mt. Gundang, Mt. Syagang, Thorung peak, and Mt. Khatungkan. Overnight stay at Thorung Phedi.
Day 14: Thorang Phedi to Thorong La (5416m/17764ft), continue trek to Muktinath (3,800/12,467ft): 9-10 hours
Today we will be exploring the highest pass of the world-Thorang La pass at 5416 m. From east to west we will pass through the easiest trail to Muktinath. We will begin our trail early in the morning and enjoy the views of the surroundings. Our trail continues to Muktinath valley which is at the foot of Thorang La pass. Muktinath Temple is a very famous pilgrimage site of Hindu and Buddhist people. Overnight stay at Muktinath.
Day 15: Muktinath to Jomsom (2,715m/8,910ft): 5-6 hours
In the morning we will explore the famous temple Muktinath first. Then we will continue our walk towards Jomsom which is famous for Apple. If we reach Jomsom in the noon where we can explore and visit its Ecological Museum which provides us an opportunity to know about the culture of the people who used to live here. Overnight stay at Jomsom.
Day 16: Fly from Jomsom to Pokhara: 25 minutes
We will have the short and scenic flight to Pokhara from Jomsom today. After landing in Pokhara you have whole day leisure, you can roam around the lakeside and experience the pure nature of Pokhara city. Overnight stay at Pokhara.
Day 17: Drive from Pokhara to Kathmandu: 6 hours
We will drive back to Kathmandu today saying goodbye to the beautiful city of Pokhara. We will enjoy the countryside views, Riverside, and hills. After reaching Kathmandu we will have the short celebration in the evening.
Day 18: Final departure
Today is your last day in Nepal. According to your flight schedule, you will be transferred to an airport by our staff for your flight to home.
Necessary Information:
Important documents:
Valid passport, airline tickets, and photos
Separate photocopies of passport, visa form and proof of insurance
Credit cards and Atm cards

Equipment and Packing Lists
There are a lot of things you need to concern about before you head towards your destination. You need the required tools and equipment to make your trip easy and successful. The item given below is classified according to the need of your body. Your equipment bag will be carried by the porter and you have to carry a daypack which includes your valuable things.
Necessary Gears
Ice ax
Crampons
Harness
Tape slings (2)
Helmet
Screwgate Karabiners (2 locks, 2 unlock)
Descender/Eight-figure
Plastic mountaineering boots
Head
Head Scarf
A woolen hat that covers your ears
Headlamp with extra batteries and bulbs
Sunglasses
Upper Body
Polypropylene shirts ( 1 half sleeve and 2 long sleeves)
Light and expedition weight thermal tops
Fleece wind-stopper jacket or pullover
Waterproof shell jacket
Down vest or jacket
Gore-Tex jacket with hood, waterproof and breathable
Hands
1 pair of lightweight poly liner gloves
1 pair of lightweight wool gloves
1 pair of mittens: consist of Gore-Tex over the mitt matched, waterproof, polar-fleece liner
Lower Body
2 pair of lightweight inner socks
1 pair of hiking boots with spare laces (sturdy soles, water resistant, ankle support)
1 pair of trainers or running shoes/sandals
Cotton socks
Gaiters
Rucksack and Travel Bags
1 medium rucksack or 1 large duffel bag
Daypack/backpack of 35 to 50 liters for carrying valuables things, should have good shoulder padding
Small padlock for duffel-kit bags
2 large waterproof rucksack covers
Medical kit
Simple and light medical kit
First aid tape
Anti-Diarrhea pills
Headache pills
Cold medicine
Anti-altitude sickness pills
Water Purification Tablet
1 set of ear plugs
Stomach antibiotic: Ciprofloxacin, etc.
Personal Hygiene
Wet wipes
Tissue
Anti-bacterial hand wash
Accommodations
If you want to know about the accommodations then you don't have to worry about it. We will be staying in 3-star hotel in Kathmandu, fine hotel in Pokhara and standard teahouses during the trekking and tents while climbing. Most of the teahouses accommodations have shared toilet facilities and for the tent, you will be provided 4-season sleeping bag and foam mattress. During the climbing sections, the toilet facilities will be provided according to the necessary natural preservations. During the upper elevation trek, you have to share the room with twins, a single room can be provided if you pay extra charges. But in some cases, you may not find single rooms as well.
Meals:
We can enjoy mainly continental meals during the trip mainly Nepali, Indian and Chinese. Breakfast, Lunch, and dinner are available throughout the trip. We take our breakfast in the same place where we stay the night. We will take Lunch during the trek or en route whereas the dinner, we will take it where we stay overnight. You will be provided with fresh and hygienic food during the trek.
Team Composition:
Trekking: While trekking you will be provided experienced and fully trained English speaking and trekking guide. Every 4 members are enabled to 1 assistant guide and also 1 porter for every 2 members to carry baggage. A licensed, English speaking and veteran climbing guide will be with you. Similarly. The assistant guide will be there to assist you for the group size of 2-4 peoples: there will be 1 main guide and 1 assistant guide. Guide and assistant guide will be provided according to the group size of the people. If there is the of 5-8 peoples there will be 1 main guide and 2 assistant guides. With the group size of 9-12 then there will be 1 main guide and 3 assistant guides. Other crew members will be included as a cook and other necessary Sherpa staff who will ensure that safety of you climbing to the peak.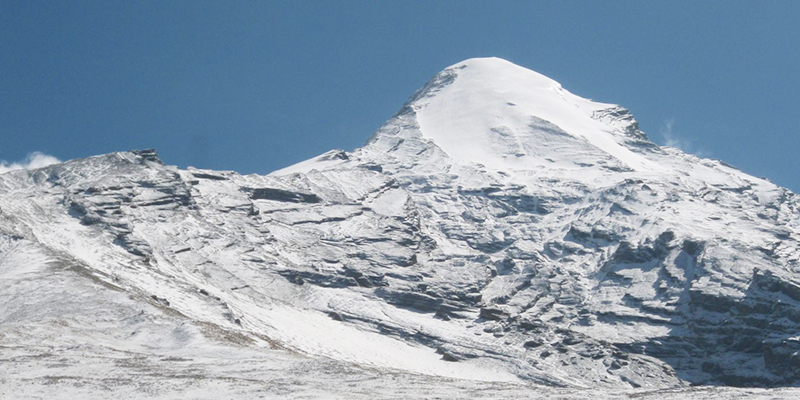 Leader (s) and staff management:
To make the trek and climbing successful, the most important thing is leaders must be skillful, experienced, courteous, loyal and helpful. Expert and professional leaders will be there for you to lead you to your destination. All Adventure White Mountain's leaders are carefully nominated based on their experience, leadership skills, and personal aptitude. For more staff management, Adventure White Mountain manages the local staff who has the knowledge about the history of local regions, biodiversity etc. The trek and the expedition leaders have undergone the following training:
Intensive Wilderness First Aid
Trekking Guide Training
Eco Trekking workshop and Adventure meet
English Language
Conservation and Biodiversity
Rock climbing, Ice climbing, and Mountaineering
Porter Care:
Porter care is one of the major factors that we have to concern during the trek. During the trek, we have to interact with porters as well. We are firmly committed to porter rights. So we know their rights and according to that, we will treat them, respect them and they will be well paid as well. We will provide proper food, wearing stuff like boots and clothing, and give the same level of respect for one another. They also get the chance to learn many things from us. If they get sick then they will be treated in the same way that we treat to the trekkers.
Responsible Tourism Practice
Himalayan regions of Nepal is the major factor that attracts the tourist in our country. So, the tourism industry has a responsibility to protect and preserve it. Though the Himalayan region is astonishing and beautiful it can be easily destroyed. Therefore you will be advised by the leaders of our company how to minimize the negative impact on the environment. They will suggest you what should be done and what shan't be. To find out more about the clean-up campaigns and environmental awareness events, Icebreak Adventures work with KEEP.
Travel Insurance:
Travel insurance is highly recommended to the visitors who want to join the Icebreak adventure to enjoy the trekking and climbing. Any medical issue an accident can occur during the trip so you are requested to choose the very good policy and have insurance for adventure travel. While choosing the best policy make sure that your insurance covers all the activities like (air ambulance, helicopter rescue) during the trip.
Physical Condition and Experience Requirements:
Though Pisang peak is not that much difficult you have to be 100 % fit before you begin your trip to this peak. You should have some rock or mountain climbing experience to summit this peak although any fit person can climb this peak experience can be much more beneficial for you. You have to walk hours and hours during ascend to the peak that's why reasonable physical fitness is necessary. For more health concern you can check up your health before the taking the trip such as heart, lung, blood pressure etc.
Pre-Trip Meeting:
We will have the pre-trip meeting as a trip preparation day on the 2nd day of your arrival in Kathmandu. In this meeting, you will be introduced to your trek leaders, which gives you ample opportunity to questions to your leader about the trip.