Kutang, another name of Mount Manaslu is the eighth highest peak in the world. Manaslu refers to 'The Mountain of spirit'. It's the biggest mountain in the Gorkha region of Nepal. The region is not modernized. Hence, it follows ancient tradition and culture. Manaslu trek has become the trending trek in the modern era. Not only the views of mountain ranges, high hills, unique wildlife, and natural resources but also the lifestyle and sense of respect of Sherpa people are completely attracting feature of Manaslu trekking.
A trek to Manaslu follows an ancient trading route along the Budi Gandaki River. Since the region falls under restricted area, trekking permit along with Tim's card is mandatory for the region. The region shares its territory with Tibet. So, the people living in this region have a similar tradition and culture of Tibetan people.
A daring and adventurous trekker never worries about the best time for Manaslu trek. But, it's a matter of our life. So, September, October, and November are the best months for the trek to Manaslu. The weather remains clear with less rainfall and crystal clear sky. Also, the temperature remains moderate. Adventure White Mountain trekking team is always there to make your trek the best you ever had.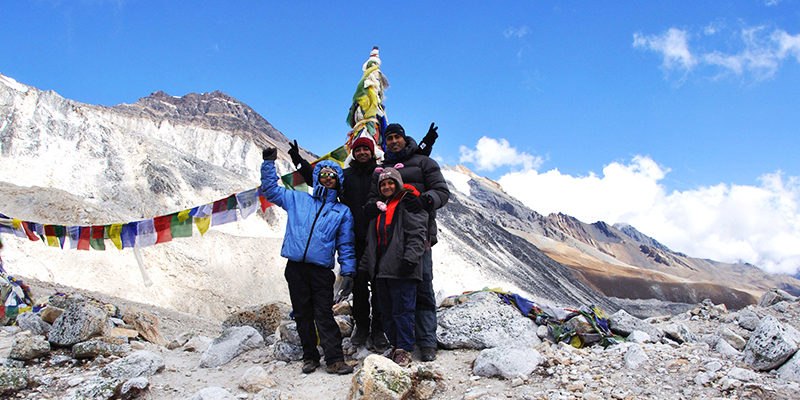 Day 1: Arrival at Kathmandu, pick up and transfer to hotel
Our team will be welcoming you to Kathmandu. You will be taken to the hotel. Now, it depends upon you whether you want to roam around the valley or take a rest at the hotel.
Day 2: Travelling around the Kathmandu valley
Kathmandu valley is full of religious places. The nearest religious places where you will be traveling are Boudhanath, Pashupatinath, Basantapur and Swoyambhunath temple. This will bring a bit of energy to you for the upcoming days.
Day 3: Drive from Kathmandu to SotiKhola (7100m) (8-9 hours)
On the very morning, you will be packing your bag and getting ready for a drive from Kathmandu to SotiKhola either by our private vehicle or by public bus. The roads are curvy and you may feel a headache on. We will pass through DhadingBesi and reach to Arughat. Going forward, the road gets rough but the outer scenario will make you feel wonderful. After a few hours, we will reach SotiKhola where we stay for a night.
Day 4: Trek to MachhaKhola (900m) (6-7 hours)
On our fourth-day of Manaslu trek, we will trek to Machhakhola by crossing the Seti Khola Bridge. Then, we walk through the dense Sal forest. Now, the difficulty level increases because of rocky up and downs. Soon after that, we will reach Khursane which is a landslide area. So, you must be careful while walking through it. Finally, we will reach to Machhakhola village.
Day 5: Trek from Machhakhola to Jagat (1410m) (6-7 hours)
The difficulty level increases on the fifth-day trail because you have to face difficult paths, ups, and downs. After crossing the Tharkhola, we will reach to Khorlabesi. On the trail, we will reach to 'Tatopani' which is a natural hot spring. You will be given little time to enjoy it. Then, we cross the suspension bridge over YaruKhola, climb the stone staircase and go down to the river. We climb it again to reach to reach ThadoBharyang. After a few hours of walk, we will reach to Jagat which is an entry point to the Manaslu Conservation Area. We will spend our night in the hotel at Jagat.
Day 6: Jagat to Deng (1840m) (6-7 hours)
Early in the morning, we will trek towards Sirdibas to the Ghattekhola. Then we will walk through a suspension bridge which will lead us to Philim. Philim is a central village in the region. The trail begins heading down from EkleBhatti, we cross the Budi Gandaki Bridge and pass through the bamboo forest. After a few minutes of walk, we will reach our destination place, Deng where we spend our night.
Day 7: Deng to Namrung (2630m (6-7 hours)
On the seventh day of Manaslu trek, we will trek through the windy forest. After a few hours of walk, we reachProk village which is a viewpoint to Ghap and pass through a forest having a wide range of birds and animals. We will cross the Budi Gandaki River and walk towards Namrung village and stay there for the night.
Day 8: Hiking to Lho (3180 m) (3-4 hours)
The trial is easier than the other days. We will be heading towards Lhi which is a small village rich in Barley and is a viewpoint of Himalchuli range. Crossing the valley of SImna, we pass through Sho and then reach Lho.
Lho is a big Sherpa valley with a large number of Gompas and monasteries. We stay at Lho for the night.
Day 9: From Lho to Samagaon (3530 m) (3-4 hours)
The ninth day of Manaslu trek is full of eye-catching views of mountain ranges. After a few hours, we reach Shyala village. Passing through different monasteries and river, we reachPungyen.We cross the ridge to reach the beautiful Samagaon village where we spend our night.
Day 10: Exploration day to Samagaon
We get too much tired and restless due to the Manaslu trek up to Samagaon. So, we rest for a day at Samagaon. We also explore the monasteries around it. We will gain knowledge about the lifestyle, culture, and tradition of the Sherpa people living there. The night at the tea house will be lovely.
Day 11: Trek to Samdo from Samagaon (3860m) (6-7 hours)
The trek is going to be adventurous and exciting enough to make your heart blow. After crossing the suspension bridge near the Samagaon, we will walk through Juniper forest.
You will start getting a spectacular view of Mount Manaslu from Samdo which is a Tibetan Refugee village.
Day 12: Trek to Dharamsala (4480 m) (4-5 hours)
The wooden bridge over the Budi Gandaki River adds flavor to your Manaslu trek during this day. On moving ahead, you will observe Larkya Glacier. The mani walls on the path symbolize Buddhism. We go upward towards Dharmasala or Larkya La Phedi where we spend our night.
Day 13: Cross the Larky La pass, trek down to Bhimtang (3720 m) (5-6 hours)
On this day, you will get a chance to see the close-up views of mountain ranges like HumlungHimal, Annapurna II and Cheo Himal. We will first cross the Larkya La pass and head towards west. Further, we move towards moraine and climb down another grass moraine. Finally, we reach Bhimtang.
Day 14: From Bhimtang to TIlije (2300 m) (5-6 hours)
We will pass the deep pine forest on this day. You can observe Rhododendron flowers in different colors. On your way, you can see the Lamjung Mountain shining to welcome your trek. After a few hours of walk, we will reach TIlije where we stay for the night.
Day 15: Trek to Dharapani and drive to Beshishar (760 m) (5-6 hours)
It's a boring day because we need to go for a drive for 4-5 hours from Dharapani to Beshishar. But, the scenario will be worthy of the trek. As soon as we cross the bridge over the Dudhkoshi River, we move towards Thonje village. Then, we enter the Annapurna Circuit Section and take a drive to Beshishar.
Day 16: Drive back to Kathmandu from Besishar
It's almost an ending of the trek. We will arrive back to Kathmandu passing many beautiful villages. You can observe theMarsyangdi River, rice fields, and flowers on your way.
As soon as we reach Kathmandu, we drive to our respective guesthouse and stay there for the night.
Day 17: Final transfer to Airport for your flight to home
The seventeenth day is the last day of your Manaslu trek. We will drive you to the Tribhuvan International Airport.