Gokyo Trek also famous as Everest Gokyo trek is an alternative tour for Everest Base Camp trekking. The Gokyo lake trek Itinerary differs as per the places of your choice. However, we focus on the standard itinerary.
Just left of the Khumbu glacier, there's a famous lake where thousands of people enjoy every year. The lake is called Gokyo Lake. And the route of Lukla- Gokyo Lake is shorter than Lukla Everest Base Camp. The elevation of Gokyo Lake is 5,364 m from the sea level. You can observe the fascinating landscape of Mt. Everest, Mt. Lhotse on the trail. The trail is rocky, sloppy and rugged. But it's all fun trekking to Gokyo Lake. The trek gives you an opportunity to explore traditional Sherpa villages of Everest region. You can get close to Sherpa Culture, tradition and festival. The trail leads you through pine and rhododendron forest which encourages your trek.
The Gokyo Lake Trek is ideal and wonderful for those who wish to explore Everest region and have very limited time. The evergreen landscape of surrounding, village and forest areas stuns you.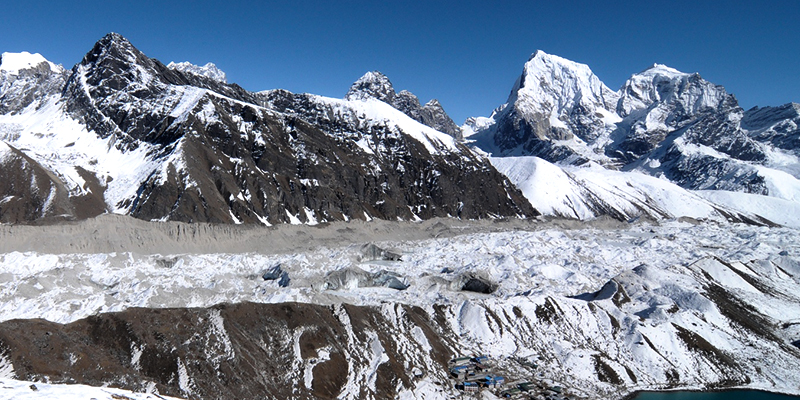 Everest Gokyo Lake Trek Itinerary
Day 01: Welcome to Nepal
Our team member will pick up you from Kathmandu International Airport. You will be taken directly to the hotel at Thamel. In the evening time, we roam around the Thamel area.
Day 02: Buying items, meeting trekking guide and final day of roaming around Kathmandu valley
On the second day of trekking, you need to buy all the necessary items required for the trek. We will make your introduction with our guide. And he will guide you to roam around the Kathmandu valley.
Day 03: Flight to Lukla, trek to Phakding (2,610 m)
Early in the morning, we fly to Lukla. The flight takes 40 minutes to complete. As soon as you take off from the Airport, you can explore the beauty of Kathmandu valley-the most populated city in Nepal. High hills and forest areas will make your flight remarkable.
The real trekking begins when you land at Lukla. You will be trekking towards Phakding for about 3 hours. Finally, we stay at Phakding overnight.
Day 04: Phakding to Namche Bazaar (3,440 m)
Today's trek requires a longer time. So be prepared with that earlier. You need to cross 5 suspension bridges on this day. 3 hours of walk towards Jorsale bores your trek. But later, you get excited about the views of Khumbila Mountain.
Day 05: The World's highest hotel (3,962m), Khumjung village (3,790m) and back to Namche Bazaar
The day is memorable. Early in the morning, you will trek towards the Everest View hotel which is considered the world's highest altitude hotel. Then, we shall roam around Khumjung village. The monasteries and culture amaze you. In the evening time, we return back to Namche Bazaar.
Day 06: Namche Bazaar to PhortseThanga (3,680m)
Today's trekking takes approximately 4 hours. We climb to Khumjung hill then to Dudh Koshi. We visit Mojang which is one of the traditional monasteries of the area. We stay at PhortseThanga for the night.
Day 07: Walk to Machherma (4,470m)
Today you need to walk for 5 hours. You need to walk towards Tongba village passing through rhododendron forest. We head towards Luza village and towards Machherma. We stay at Machherma for the night.
Day 08: Machherma to Gokyo (4,790m)
The eighth day of the Gokyo lake trek is moderate. Early in the morning, we start trekking towards Kangtega valley. You can witness Mt. Cho Oyu, Ngozumpa glacier which is the longest glacier on the trail. After 5 hours of trekking, you will reach Gokyo where we stay overnight.
Day 09: Hike to Gokyo Ri (5,360m) and back to Gokyo
The ninth day is difficult because you have to climb the high hill of Gokyo area. The path is not easy and you need to trek for a complete 8 hours. You can witness outstanding views of many other highest peaks like Mt. Everest, Mt. Lhotse, and Mt. Cho Oyu from Gokyo Ri. We return back to Gokyo from Gokyo Ri and stay there for the night.
Day 10: Gokyo to Dole (4,110m)
You will have to descend for a longer duration on this day. The duration of the trek is approx. 7 hours. The landscapes of Longpongo and TabucheTso of Gokyo Lake are wonderful. Trekking towards Dole from Gokyo Lake is wonderful.
Day 11: Dole to Namche Bazaar (3,440 m)
You will have to trek for approx. 6 hours today. The trail passes through a thick forest where you can witness rhododendron and fir trees. The vibrant landscape of Namche Bazaar along with bars and cafe brings excitement within you.
Day 12: Namche Bazaar to Lukla (2,840m)
This is the last day of walking and probably ending day of the trek. You walk through the Khumbu glacier. The mountain views and surrounding are remarkable to make you fall in love with nature. You will descend to Lukla from Namche Bazaar and stay there for the night.
Day 13: Flight to Kathmandu from Lukla
Today, there's nothing exciting other than the prosperous views of Everest and Kathmandu area. The flight obviously makes your day spend well.
Day 14: Rest day at Kathmandu
After all, we rest at Kathmandu hotel. We can take you to roam around Kathmandu valley as per your desire. In the evening time, there's a celebration for the successful completion of the trek.
Day 15: Departure/Extend trekking in other places of Nepal
Our member will drop you at Kathmandu International Airport. Also, you can extend your trekking to other destinations of Nepal.