If you mix short, sweet, adventurous and exciting then you get a product, and that's called an Everest base camp helicopter tour. You can join Everest Base Camp trekking as well. But this requires a physically fit body. The trekking and tours are famous in the world and are the trending packages\ of Nepal. It takes you to the highest peak in the World: Mt. Everest. Nepal is a mountainous and naturist country. You get a wide range of places to enjoy, to chill and fun on your holiday/vacation. Going to Everest Base Camp and watching the lively views of Mt. Everest is the dream of every people.
Nepal is rich in culture, Himalayas, birds, animals, and forest areas. One thing is sure that helicopter flight to the Everest region will be life long memory. Looking back to history, the interest of travelers to the Everest region started when Sir Edmund Hilary along with Tenzing Sherpa climbed the Mt. Everest for the first time. His team also constructed Lukla Airport which consists of a single runway and is the most dangerous airport in the world. The landing plane at this airport is so scary and adventurous.
Major Attractions of Everest Base Camp trek
Explore Kathmandu valley: Thamel, Basantapur and many more places
Scary and fantastic flight to Lukla Airport
Experience the culture, religion, and festivals of Sherpa people
Observe Khumbu glacier, Tengboche monastery, lakes, and rivers
Explore high hills and Namche Bazaar
Eye-catching views of Mt. Everest, Mt. Nuptse, Mt. Lhotse, Mt. Ama Dablam and many other mountains
Major attractions of Everest Base Camp Helicopter Tour
3-D views of Kathmandu valley
Landing at Lukla Airport is adventurous and scary
Explore top views of mountain ranges and high hills
Get to the highest destination in the World: Kalapather
Excellent time spend at the Everest View Hotel
Cost details for Everest Base Camp trek
Generally, different packages ranging from 9 to 15 days for Everest Base Camp trek. The Cost ranges from $1150- $1600 and more. But this depends upon the travel agency you choose. If you're planning to join us, we provide the service at the cheapest rate of only $1230 and less depending upon the trekking packages and itinerary. This Cost includes your meals, dinner, medical facility, domestic flights and many more. You will be taken to standard hotels of Namche Bazaar and Kathmandu. During the trip, you can enjoy a lot with our Sherpa guides because they are friendly and speak English very well. Furthermore, they will explain to you about the area you trek: about the temperature, people, religion, animals, mountain ranges and more.
Besides this charge, you need to buy warm clothes because the temperature of Base Camp is always below 10 degrees Celsius. You can buy clothes in Nepal because they're cheaper than in other countries. But there's no problem at all for purchasing warm clothes from your home town. Note that our charge doesn't include your international airfare to Nepal.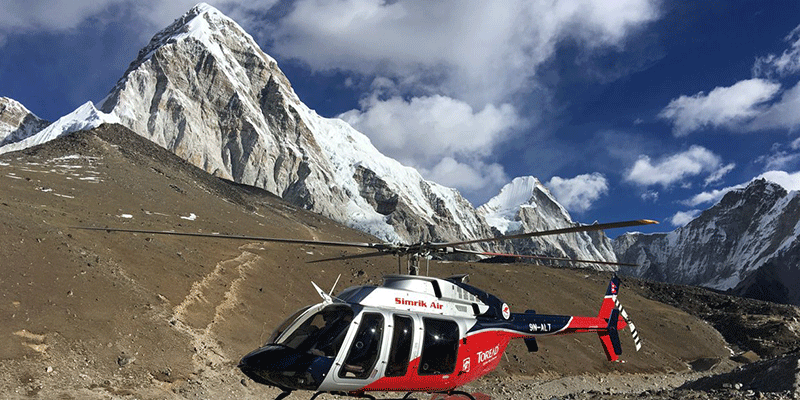 Cost details for Everest Base Camp Helicopter tour
Helicopter tour to Everest is getting favorable and trending every day in Nepal. In the past, people with fewer periods in Nepal used to go for a helicopter trip, but now many travelers prefer Helicopter tours to the Everest region. It is because the journey is cheaper than the trek and is safer.
Generally, the Cost for the EBC helicopter tour ranges from $980 to $1500. We provide the tour at USD 980. Our pilots are experts with decades of experience in the relevant field. He can comment about all the places in detail and make your trip successful. Also, they're friendly and allow you for videography and photography. The landscape of glaciers and rivers on the tour is outstanding.
Tips for choosing the best travel agency depending upon Cost
Usually, the traveler wants those company which has high reviews by google and Tripadvisor. And, what is the fact is those companies will charge you very high but if you choose the company with good reviews on google and trip advisor you can get the best service because they charge you low and offer you more. Adventure White Mountain charges very low and believes me you will find our staff friendly and kind-hearted. We do everything for sharing our happiness and joy. And, we always focus on the aim of reaching Everest Base Camp, and we have been successful to date.
Why Adventure White Mountain?
The cheap and affordable price tag in the market
We are giving more facilities in less price because we want you to enjoy Nepal and help our government to make Visit Nepal 2020 successful.
Friendly and cooperative staffs
Every guest becomes our close relative, and that's why they join us again and again yearly.
More extensive contact with standard hotels and lodges of Everest region
We are in contact with almost all the hotels in the Everest region. So, managing a standard hotel is not a big problem for us.
Decades of experience in the field
Since the establishment of our company, we're dedicated to our service, and we will keep our dedication alive in the upcoming years.
Money-back guarantee policy in case we cant arrange the trek and tour
We give you full payment incase we cant arrange the trip and trek for you. Usually, this happens due to poor weather conditions.