Everest Base Camp trek is one of the well-admired trekking destinations of Nepal. Trekkers choose best seasons for trekking so that they can successfully climb the peak. No other seasons than October is suitable and favorable to trek in Everest Base Camp. Everest Base Camp trek offers jaw-dropping views of entire Mt. Everest massif vistas and scenic beauty. Similarly, this trek also includes exposure of Monasteries and Gumbas which gives ample opportunity to experience the culture of Buddhist people. The route of this trek goes through different beautiful Sherpa villages which also give the prospect to experience the lifestyle of Sherpa people. Sagarmatha National Park is another highlighting feature where different species of flora and fauna can be found. Outstanding views of Mountain vistas, scenic beauty, and adventurous trail, one should try this trek to stand in front of the tallest peak of the world to live the dream.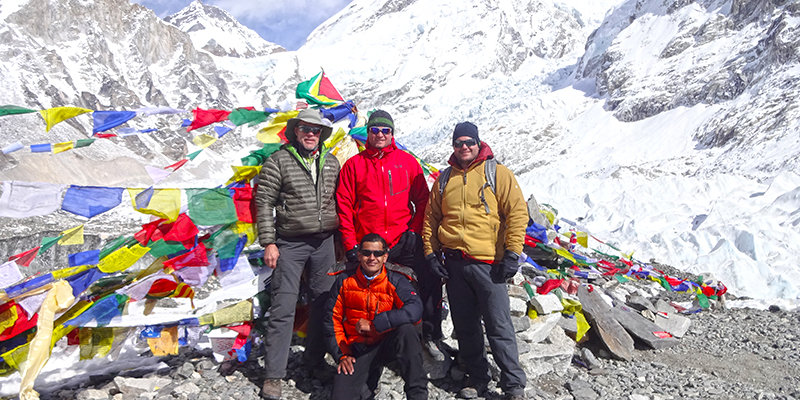 People and Culture in Everest Base Camp
In the upper Himalayan region of Nepal, people from different ethnic groups like Gurung, Tamang, and Sherpa are found. In the Everest region, mostly Sherpa people are settled. Most of the Sherpa people are the guide from which they gain their source of incomes. Their lifestyle is totally different from people living in the hilly region and Terai region. They follow Buddhism as their religion celebrate their festivals of their own. Similarly, Sherpa people are very loyal and kind of hospitality. Their cultural programs will add another flavor of trekking.
Everest Base Camp Weather and climate
Weather in the month of October is mostly clear though I would highly recommend starting EBC trek from the second week of the month. September month was also one of the best months to trek but recently last few years rain has been the hindrance. No rain threat can occur during the month of October. Blue sky with crystal clear views will make your trek more worthy than your effort. The weather might differ because of the changes in climate. The temperature in October during the daytime is 12-16 degree Celsius whereas during the night it goes down to -5 to 2 degree Celsius.
Everest Base Camp Trek Difficulty
In terms of grade of this trek is not that much difficult than other trekking destinations of Nepal. Trekkers should be physically and mentally fit in order to complete this trek successfully. The landscape of Khumbu consists of flatlands as the trail is mostly up-hill and down-hill needs more physical strength. Thus it has moderate trip grading as people of all demographics can accomplish the Everest Base Camp trek.