'We don't stop trekking because we grow old, we grow old because we stop trekking'- a famous saying by Finis Mitchel. Do you know an interesting fact? Everest grows 4mm higher every year due to Geologic uplift. The Everest region is the most popular destination for trekking in Nepal. Hypnotic views of mountains, Tenzing Hillary Airport, Himalayan Tea houses, Khumbu International Library, Namche Bazar, View from Kala Patthar, Sagarmatha National Park and encountering Monasteries are the major attractions of Everest Base Camp.
The scenario is phenomenal with some animals like Snow Leopard, Red panda, etc. Imagine the time when you see Mount Everest in front of you and the zippy view of heaven around. The best time to take the pictures and show it to your children and grandchildren in the future. The friendly environment of Sherpas makes you feel about brotherhood and sisterhood. Sounds coming from Gumbas make your mind fresh.The Seasonal information in clearly written below: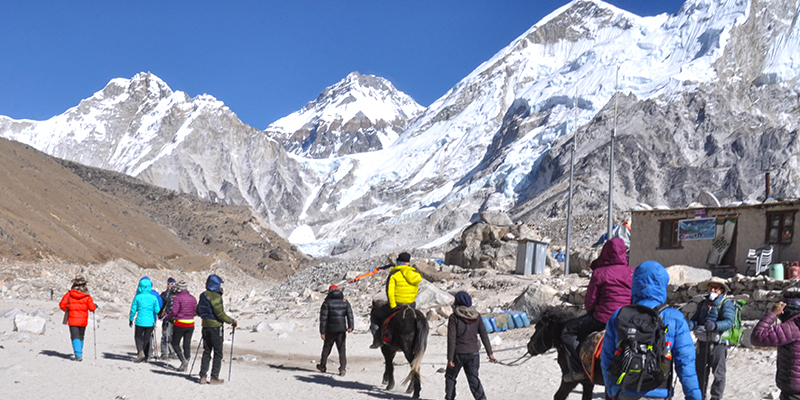 Spring Season-best for the clear view of Mountains
The time of plans and projects, the land awakening time and the time every trekker goes traveling around in the spring. And, the trekkers prefer going trekking in this season. It lasts from mid-March to mid-May. This is the time when trekkers forget their work and enjoy the beauty of Everest. The temperature is mild with cool air around. Visiting Everest base camp is the ideal period to see the clear Mount Everest.'
Summer season- Happy times and good Sunshine
The best time to dance in the sun wearing wild flowers in the hair is summer. Mid-May to August is the summer months in Nepal. If you are planning to visit in this month then don't worry about the weather because it's mild near the Everest area. The average temperature during this month is 28℃ with rainfall in the lower region. Be aware of Leech and bugs. Don't hesitate to contact us if you are planning to visit in these two seasons.
Autumn-Smiley season of the year
Autumn is a second spring when every leaf is a flower. It last fro, September to November. You will experience a lot of wildlife; also get to explore different types of Himalayan flowers and plants. This season is best for Mountain View because you will get the crystal clear view of the world's highest mountain.
Winter season-Time for comfort, good food, and warmth
Nepal enjoys winter season during December to February with very cold temperature in Everest areas and occasional heavy rainfall. However, winter can be the best time for trekking. Day temperature is comfortable for trekkers with sunny sky but at night time, the temperature becomes low and may freeze. Overall, all these seasons has become suitable for every trekker to Everest base camp.