It's obvious that trekking around the highest peak doesn't come cheap. You need to research the Itinerary, food, flight cost and many more. You may find a list of prices different surfing different websites. Adventure White Mountain focuses on the cheapest possible cost for you.
If you have enough time, we suggest not going for the Helicopter tour to Everest Base Camp but for trekking to Everest Base Camp. This will be the biggest adventurous game you had ever played in your life. Life is a game because no one knows when we die. So, planning how to complete the mission that is the mission to trek Everest Base Camp is your work.
The price of food, lodges go on increasing with the increase in altitude. You must take Rupees on the trek to pay for teahouses because you will not find ATMs on your way above Namche Bazaar. Also, no teahouses will accept a credit card.
Here you can find detailed pricing which includes transport, accommodation, food and many more.
Cost of Transportation
You may be wondering why the transport cost is very high. It's because of the bus network. It costs around $15 taking a bus for 9 hours from Kathmandu to Jiri. Then, you need to make 7 days trek to Lukla paying around $30 per day. But there is another best option to start Everest Base Camp Trek that you can fly from Kathmandu to Lukla and fly out to Kathmandu which is cost 380$ to do Everest Base Camp Trek.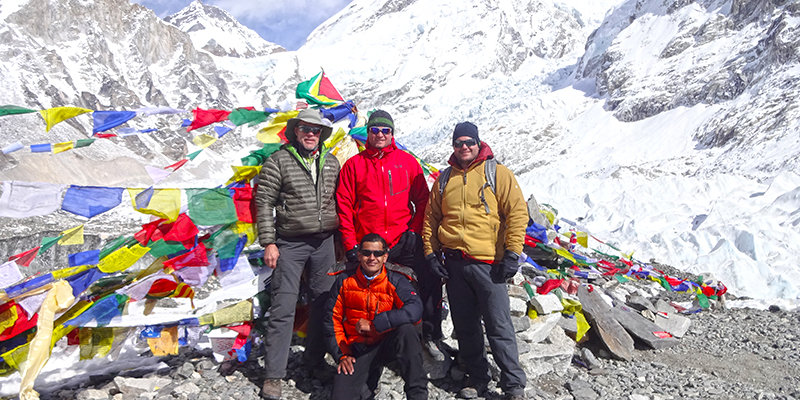 Cost of Accommodation
The cost of accommodation is low. It cost $5-$7 for a day The reason behind it is they actually care about price for food not for the room. The rooms usually have 2 single beds with blankets and pillows. However, you should bring warm clothes because it gets cold at night. The lodges with attached toilet cost $10. Most of them have shared the toilet. The average total cost of accommodation is 105$ for the whole trip
Cost of Food
Almost all of the tea houses serve Dhal-Bhat which is our traditional food. You can find dumplings, Chowmein, noodles, vegetables, and soup at every tea houses. Some of them serve western foods like pizza and French fry. The higher you go, the higher you find the price of food. The best way to determine whether the price is expensive or cheap is to check the price of Dhal-Bhat. You will need an average of $35 per day for food.
Cost of Guide and Porters
It's essential to take a guide for your safeties. In fact, if you are first time trekker to Nepal, so you should take a guide with you. The guides will be very helpful and can speak English. They will charge $30-$35 per day. Porters can't speak English so, let your guide deal with them. They carry 20-25 kg bag. The standard charge for a porter is $20-$25.
Cost of Official Documents
Trekkers Information Management System (TIMS) and Sagarmatha National Permit are two types of permits required for EBC trekking. You can find three different types of TIM's card with different cost and color.
1. SAARC country Red colored TIM's Card, $3
2. Organized Blue colored TIM's card, $10
3. Individual Green colored Tim's card, $20
4. Village Development committee fee 20$
The cost of Sagarmatha National Park Permit is $33.09 which will give you entry to Khumbu National Park. Also, you need to have a Visa which cost $40 for 1 month.
Miscellaneous Costs
Hot shower cost $3-$5 in the tea houses. You will get a cold shower free of cost. You can charge your electronic gadgets for $5. Wi-Fi facility is available is all the tea houses. You will need to buy drinking water which cost $3 for one liter But, refilling the bottle is cheap that cost only $1. So, buy water repellant from Kathmandu to save your money.
Money Saving Tips
Do not eat meat during the trek because the meats are not fresh. The porters carried it for 2-3 days buying it from low lands because killing animals is strictly prohibited in higher altitudes. Here are some tips to save money please check it out
Bring a power bank and a long-lasting battery pack so that you can save money from charging gadgets.
Bring toilet paper, snacks, and medical kids before the trek because snacks are expensive.
Trekking independently will save your money but it's too risky trekking independently.