Imagine that you're standing in front of the highest peak in the World. Do you want your imagination come true? We're here for you to support, guide and make your dream come true. Everest Base Camp trek offers immense opportunity to see many high Himalayas, glaciers, rivers, lakes, traditional Sherpa villages and many more. Nepal having different Climatic conditions consists of unique birds, animals, insects, butterflies, trees and many more. Trekking to Everest region started when Sir Edmund Hilary and Tenzing Sherpa climbed the Mt. Everest for the first time. Many travelers around the World began trekking, and it has now become a popular destination for travel seekers. Ten thousand travelers around the world visit the Everest region yearly. Many become able to reach Base Camp whereas some return back from the middle of the trek. Trekking to the Everest region is not an easy task. One must have done regular exercise and must be fit for it.
The trekking route is adventurous because you need to face ups and downs, cross the passes, walkthrough suspension bridge and forest areas. The trek takes you to 5,380 m from where you can observe a clear view of Mt. Everest. Its 130 km round trip starts from Lukla which is the gateway of the Everest region. However, it's not possible to trek to the base camp directly. That's why acclimatization days are placed. Trekking continuously causes altitude sickness.130 km is not a long distance to travel. You can trek 5 km per hour because your body needs some rest. And if you feel any symptom of altitude sickness, don't hike higher. If possible trek lowers elevation. If you have great stamina, then covering 5 to 7 km per hour is not a big deal.
Hiring a porter will decrease the weight and in fact, will help you a lot. So, think about it and go for it. You need to walk for nine days in a standard 14 days Everest Base Camp Trek. Other days belong to rest, acclimatization and in Kathmandu. Walking for 15 km per day is not a big problem but the high hills, number of ascending and descending causes problems to your feet. Trekking is difficult and almost impossible in the winter season because the route may be blocked by snow and landslide may occur any time in the snowy area. It depends on person to person for completing the EBC trek. Some achieve it within 11 days, some in 12, some in 10 whereas for some people, even 15 days may not be sufficient to complete the trek. It depends upon your physical fitness. You should always keep a positive mentality while trekking to a higher elevation.
The food you eat and the place you sleep also plays a vital role in the completion of trekking to Everest Base Camp. As the distance increases, the prices for these items also increases. And make sure not to eat any non-veg item at higher elevation because they are all rotten. You need to carry warm and thick clothes and take sound sleep in the tea houses.
Length of Everest Base Camp Trek
The exact standard length of Everest Base Camp trek in Nepal is 14 days, but it may take higher than that due to the variation in a route like Jiri to Everest Base Camp and Gokyo lake trekking. The ascending takes longer time than descending. It takes nine days to reach Everest Base Camp while you can fall within three days back to Lukla.
Below is the standard Everest Base Camp 14 days Trek itinerary:
Day 01: Arrival at Kathmandu
Day 02: Fly to Lukla Airport and trek to Phakding – 9 km (4 hours )
Day 03: Trek from Phakding to Namche Bazaar – 12 km ( 5 o 6 hours)
Day 04: Acclimatization Day at Namche Bazaar
Day 05: Namche Bazaar to Tengboche trek – 10 km ( 6 hours )
Day 06: Tengboche to Dingboche trekking – 12 km (6 hours)
Day 07: Acclimatization day at Dingboche
Day 08: Dingboche to Lobuche trekking – 12 km ( 7 hours)
Day 09: Lobuche to Gorakshep to Everest Base Camp and back to Gorakshep – 15 km ( 8 hours)
Day 10: Hike from Goraks to Kalapather and back to Pheriche – 13 km (7 hours)
Day 11: Pheriche to Namche Bazaar – 14 km (8 hours)
Day 12: Namche Bazaar to Lukla – 15 km (8 hours)
Day 13: Lukla to Kathmandu
Day 14: Final Departure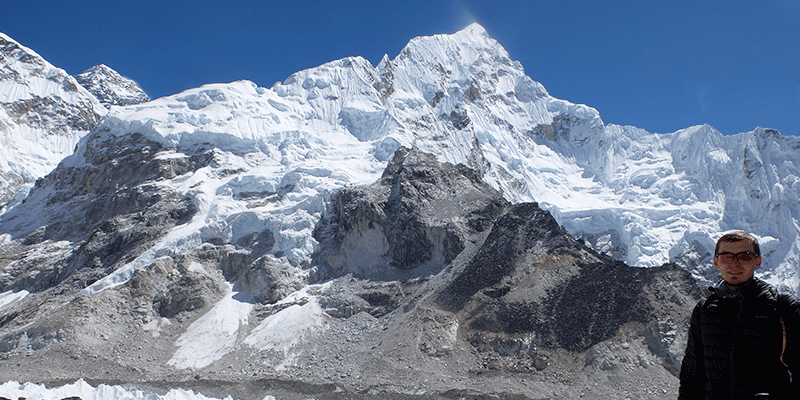 Altitude during Everest Base Camp Trek
EBC trek in Nepal is the highest elevation trek. The trek starts from a low elevation of 2,800 m and ends at the highest elevation of 5,545 m (kalaptther) We don't stay for a longer time at Kalapather because remaining long we can cause altitude sickness. You need two acclimatization days during the trek: one at Namche Bache and next at Dingboche. The acclimatization days help a lot to trek higher elevation. We quickly return to Pheriche from Kalapather so that no danger can attack our body. Below are the places with altitude for Everest Base Camp trek in Nepal:
• Kathmandu ( 1,400 m
• Lukla (2,860 m), Phakding ( 2,610 m)
• Namche Bazaar ( 3,440 m )
• Tengboche (3,867 m)
• Dingboche (4,410 m)
• Lobuche (4,940 m)
• Gorak Shep (5,164 m)
• Everest Base Camp ( 5,364 m)
• KalaPather (5,545 m)
• Pheriche (4,371 m)
• Namche Bazaar ( 3,440 m )
• Lukla ( 2,860 m )
• Kathmandu ( 1,400 m)
Final Say
You can find many other trekking routes than standard EBC trekking in Nepal. The distance, length, and elevation depend upon the way you choose, but we highly recommend you to choose the standard one because of its ease and comfort than other trekking routes. We want you to make clear about the detail distance of EBC trek and hope you are clear now. Still, if you have any questions regarding it, please contact us as fast as you can.