Gokyo valley trekking in Nepal, which lies at the towards the western Khumbu region of Nepal, is the major highlighting part of Everest Base Camp Trek. The number of adventure seekers is excited to trek in this unusual trekking path of Khumbu region. From the valley of Gokyo, astonishing views of luring mountain can be witnessed from northern to southern of Everest Region. Goko valley trek begins with the flight from Kathmandu to Lukla. Then after from Lukla trail goes through Namche, Dudhkoshi valley, Sagarmatha National park and all the way to Gokyo.
Trekking in Gokyo valley gives an ample opportunity to witness the biggest glacier of Nepal-Ngozumpa glacier. Similarly, breathtaking views of Mt. Everest (8848m), Cho You (8156m), Lhotse (8501m), Makalu (8470m), and many more ranges can be seen from Gokyori just above the Gokyo Lake. One of the major fascinating parts of this trek is eye-catching views of marvelous ice ridge between Cho Oyu and Gyachung (2992m) which is situated in Khumbu region. During the trek, trekkers can experience the variety of flora and fauna, interesting Sherpa culture and tradition along with natural scenic beauty. Freshwater lakes system and Gokyo Ri play the vital role to attract trekkers in Gokyo valley.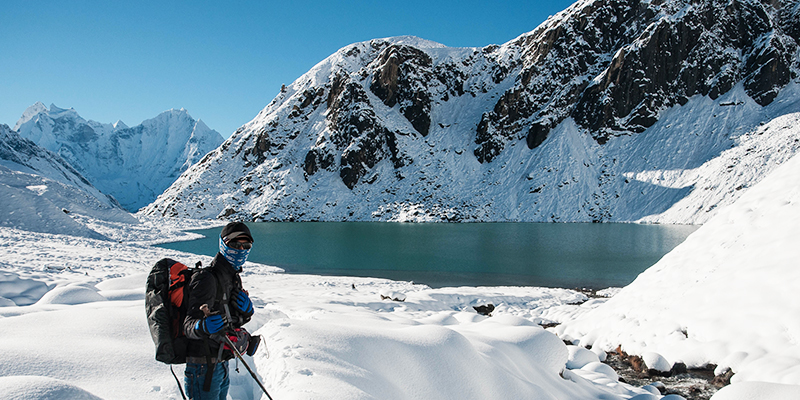 Gokyo Lake
Gokyo Lake trek is one of the adventurous treks in the Everest region of Nepal. Lying at the altitude of 4700-5000 m, Gokyo Lakes are the world's highest freshwater lake system. Known as DudhPokhari, Gokyo Cho is the major lake of this lake system whereas Thoknak Cho is the largest lake. These lakes carry religious importance for Hindus and Buddhist as well. During the time of Janai Purnima Festivals (month of August) numbers of Hindus take the holy bath is these lakes. Because of its religious significance tourist from sub-continent are more likely to visit this destination.
For those who are seeking for off beaten trail and freshwater lake system, Gokyo lake trek is amongst most famous trekking destination of Nepal. On average about 5 thousand of tourist visit this lake and enjoy the adventure. Gokyo lake track is another extended trail which takes towards Everest Base Camp Trek. The trail to Gokyo Lake is as similar as of Gokyo valley. Gokyo lake trek provides outstanding views of Mt. Everest, Cho Oyu, Makalu and largest glacier of Nepal-Ngozumpa glacier. If trekkers want to extend their trek then they can trek up to Everest base camp via Gokyo lakes which gives more opportunity to explore Mt. Everest from the closer distance. The best time to visit Gokyo lake is from March to June and September-December.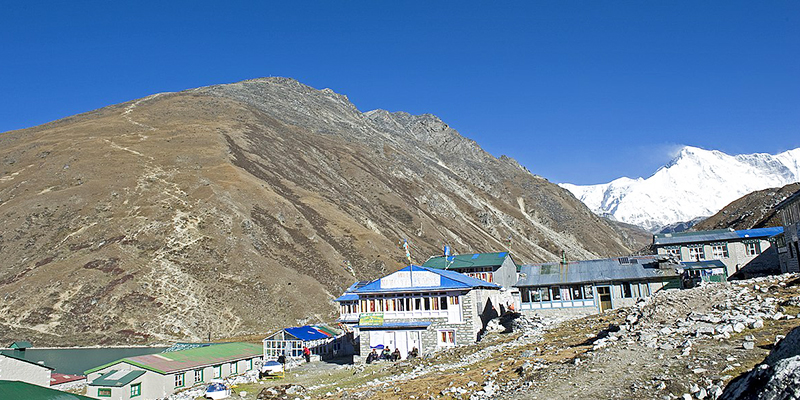 Gokyo Ri
Gokyo Ri (5357 m) trek in Khumbu region provides magisterial views of remote Gokyo valley, Gokyo lakes, glaciers, and stunning Himalayan vistas. As you reach the top of the Ri most astonishing views of Mountain vistas including Mt. Everest, Lhotse, Ch-Oyu, Makalu and many more small ranges can be experienced. Charming freshwater lakes system of Gokyo valley can be experienced from the Gokyo Ri. The trail to Gokyo Ri is one of the finest trekking tracks in Khumbu region covered with the blanket of beautiful rhododendron and birch forest. During the walk, trekkers are companied by exotic wildlife like muck deer, Himalayan Thar, Lovely Pheasant, and many other beautiful birds. Likewise crossing numerous suspension bridges with water rushing under your feet adds more fascinating flavor in this trek. Moreover, you can explore the scenic ridges along with the small Chorten, beautiful villages, and natural beauty.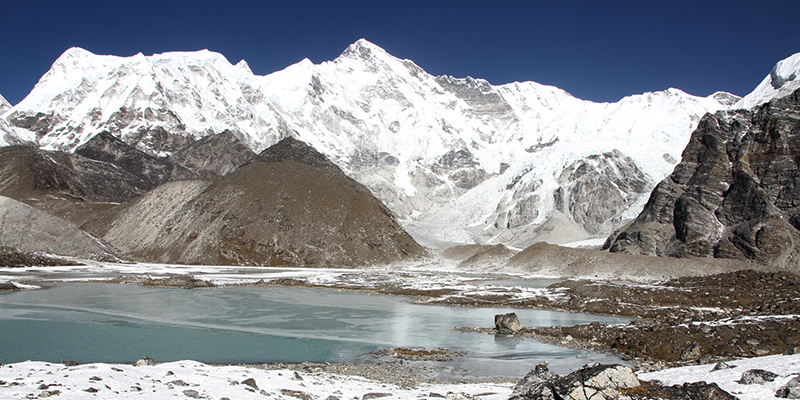 The Fifth Lake
The fifth lake is just above the Gokyo valley is the perfect trekking alternatives in the Everest region of Nepal. Less crowded trail with most adventurous scenic beauty, trek in Gokyo is the ideal way to explore snowcapped peaks like Mt. Everest, Lhotse and many more. Trekking through Namche Bazaar and Dudhkoshi Valley trail leads towards beautiful Gokyo valley. Then after reaching Gokyo, the trail through Renjo La pass (5360 m) would be better because the scene and the views from Renjo La Pass are far better than Gokyo Ri. So, choosing the trail of Renjo La pass rather than Gokyo Ri, the trail goes further ahead towards the north of Gokyo. Then after walking for almost 2 hours, the trail will reach up to the 4th lake (4840m). The trail continues from 4th lake leading up to the fifth lake (4980m). During the trip up to the fifth lake, it provides jaw-dropping views of Mt. Cho Oyu, GyachungKyang, Ngozumpa Glacier, Everest, Nuptse, Lhotse, and Makalu. This trek is one of the most interesting and enjoyable trekking in the Khumbu region.