Mt. Everest Expedition, the highest peak of the world at the elevation of 8848m, is well-admired peak all over the world. Since the two legendary people Sir Edmund Hillary and Tenzing Norgay Sherpa stride their first footstep in 1953, Everest expedition has been admired all over the world. Climbers from a different part of the country, taking own risk has successfully climbed this peak. Even women from different countries have the courage of climbing this peak. The first women from Japan to climb Mt Everest is Junko Tabei. She achieved this feat in 1975 by reaching the summit of Mt. Everest. In the context of Nepal first Nepali women to reach the top of Everest is Phasing Lhamu Sherpa (1961-1993), who ascent in 1993 and lost her lives while descending from the peak. Nowadays it has been a trend that every adventure seekers want to Summit this peak once in a lifetime. Annually thousands of climber ascent this highest peak of the world where some people successfully ascent it while some people lost their lives.

Till the date, there is 8,306 summit in Everest, from the side of Nepal 5280 climbers summited whereas from China 3206 summits were made. Among 8306 Summit 288 people have lost their lives while summiting. In the context of the year 2018, climbers have created history themselves by summiting the peak in different aspects. Kami Rita Sherpa has created history on the roof of the world by climbing Mt. Everest for the 21st time. Similarly, Lhakpa Sherpa broke the record of her known for most female summits in 2018 with 9th time. The first foreigner to Summit the Everest 2018 spring season is Steve Plain who summited in 14th of May 2018 from the side of Nepal. When he returned back to base camp then it will be the record of 7 summits in 2018 till now in Everest. On May 16, 2018, 140 people have summited the Everest while a Sherpa died on 15th of May. Similarly, in 19th of May, a Sherpa died while fixing a rope in Lhotse. And according to the source, it is an official that over 200 climbers are expected to reach the top of the world. According to the Liaison Officer of Tourism, on the date of 18th May 2018, 65 people including 31 foreigners reached the top of Everest. About 150 climbers have already ascended the summit form the till date. Similarly, on May 20, 2018, at least 50 summits from both sides are currently climbing from base camp to higher camp expecting to finish their summit through the week. A total of 364 climbers (38 expedition teams) are in their trip to Mt. Everest in this spring season.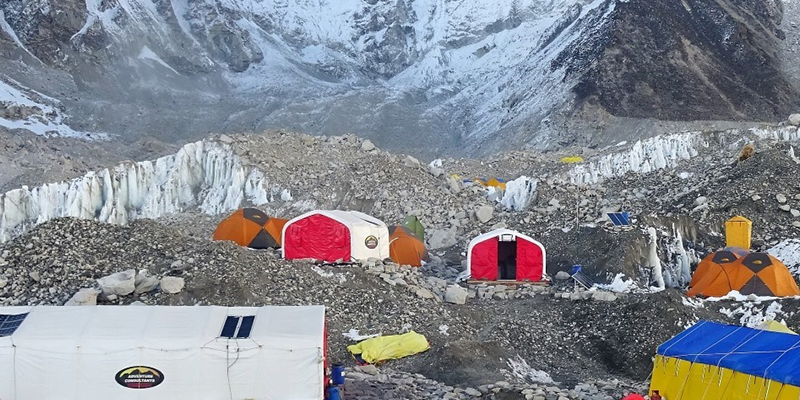 Youngest Indian Women to Climb Mt. Everest
May 17, 2018-Shivangi Pathak, a girl of 16 years old from Haryana had successfully climbed Mt. Everest with other 27 climbers. Seven Summit treks have claimed that 16 years old girl has created history by becoming the youngest woman to climb the highest peak of the world from Nepal side.
Macedonian Climber died at Everest
A Macedonian climber, Gjeorgi Petkov died while attempting to climb world's tallest peak. According to the officials of base camp 63 years old, Petkov died in Sunday afternoon, 20th of May. According to Kami Nuru Sherpa, a base camp Manager, Macedonian breathed his last above camp III as he was suffered from cardiac arrest.
Malaysian climber found dead
A climber from Malaysia, Raman Nair Hachoodan, has been found dead closer to camp II on Mt. Ama Dablam (6812m) in Everest region. His body was rescued by the team of Sherpa whose body was missing since May 15. According to the rescuers, his body was found from around 5300 m and it has been said that Raman was fell 1000 down from the high camp while returning to low camp with his two other climbers.
Nobukazu Kuriki-Japanese climber found dead
May 21, 2018- A Japanese climber Nobukazu Kuriki has been found dead during the course of climbing Everest. Sherpa climbers found the dead body of 36 years old Japanese at camp II. According to the source the Kuriki had an unsuccessful four attempts in previous years. Managing director of Bhochi treks has claimed that Kuruki along with four Sherpa guides had marched ahead to higher camps to make the final ascent on Mt. Everest.
Review of 2016 and 2017
In the spring season of 2016, 456 climbers had summited Mt. Everest including 199 foreigners while five people lost their lives. In 2017, the somehow similar number of 455 climbers summited Mt. Everest among them 190 were foreigners, 32 fee-paying Nepalese and 233 Sherpas.
Everest Expedition cost 2018
The price that a climber has to pay for expedition in Everest is at least $30000. But as the price is hiking up most of the people pay about $45000. Though they can prefer the fair price and enjoy the adventurous Everest expedition in Nepal.