Trekking has been of the top most adventurous sport in Nepal. It is either a long trek or short trek, people who are adventurous seekers from a different part of the world visit Nepal. Most of the trekkers may not have enough time for the expedition for a long period of time, though there is still short trekking packages in Nepal which can be completed within 10-12 days. Trekkers can explore the beauty of the Himalayan region within a span of fewer than two weeks.
Trekking in the Himalayan region of Nepal offers spectacular views of panoramic peaks, eyes catching views of natural beauty, the unique lifestyle of the Himalayan people, and many more beautiful elements. 12 days trekking in Nepal are ideal for those who do not have adequate time for higher mountain and have hunger of appreciating the beauty of the Himalayan region of Nepal. Some top and famous trekking spot which can be completed within 12 days are explained below in brief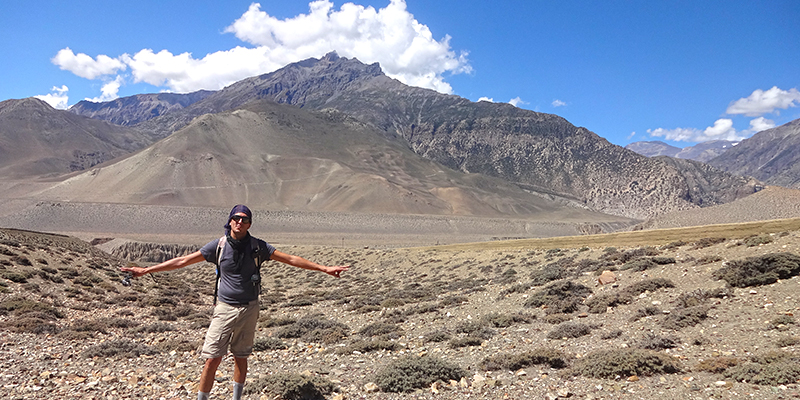 Everest base camp trek (5363 m) is one of the admired trekking destinations throughout the world. This trek offers splendid views of famous panoramic peaks including Mt. Everest (8848m), AmaDablam (6856m), Pumori (7161 m), Lhotse (8516m), Lobuche East (6119 m), Island peak (6189m), Makalu (8481m) and many other small ranges. This is one of the trekking spots which can be finished within a period of 12 days. Trekkers always have a dream of standing in front of the highest peak in the world. 12 days of trekking to Everest Base camp is enough for any adventure seekers. Generally, packages are made with the itinerary of 12 days trekking in EBC but if trekkers want to customize it in lesser days like 9-10 days then they can easily finish this trek within the span of 10 days as well. During the days of trekking in Everest Base camp, trekkers can experience astounding views panoramic peaks, stunning landscapes, alpine vegetation, Ice falls, Glaciers, and scenic beauty. Similarly, varieties species of flora and fauna can be experienced in Sagarmatha National Park. So, don't miss this short trek of 10-12 days in Everest Base Camp which has a lot to offer for trekkers.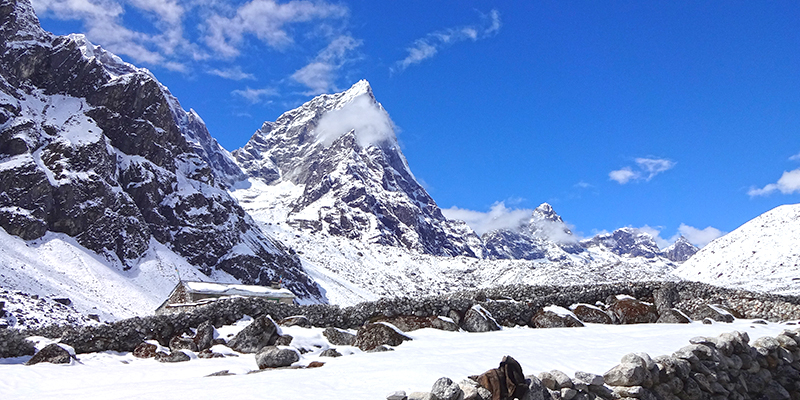 Everest Panorama Trek is comparatively easiest trekking trail in the foothill of Everest region of Nepal. This short trek which can be completed within 12 days offers scenic beauty of Everest region and superb views of Mt. Everest (8848 m), Lhotse (8516m), Thamserku (6608 m), AmaDablam (6856m) and other snowcapped peaks. Trekkers who are seeking for short trek which can be adventurous then this panorama trek to Everest is ideal for them. Trail of this trek is followed up to Khumjung village via Namche Bazaar and Tengboche.Tengboche Monastery is another major attraction of this trek which can lift up your belief towards god after visiting this. Introduce yourself to the Sherpa village and gain much more knowledge about their lifestyle, culture, and tradition. Likewise, eye-catching views of beautiful villages on the trail and loyal people with great hospitality make this trek even more enjoyable. This trek is best for those who are beginners in trekking in Nepal and haven't had enough time for the longer expedition into higher mountains. If trekkers want to complete this trek within 10 days then they can personalize their own itinerary at a fair cost.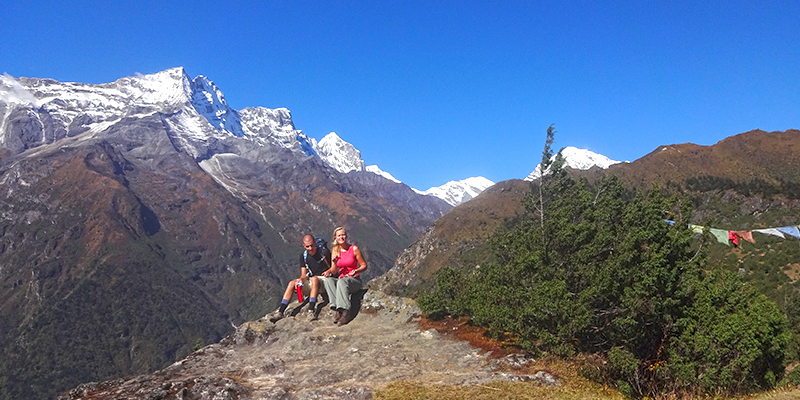 Gokyo Valley trek is an off beaten trekking trail to Khumbu region of Nepal which offers spectacular views of mountain peaks and Ngozumpa Glacier-the largest in Himalayas of Nepal. Superb views of gigantic peaks like Mt. Everest (8848m), Cho-Oyu (8156m), Lhotse (8516m), Makalu (8481m), and many other small peaks can be experienced during this trek. The most eye-catching attraction of this trek is the magnificent views of mammoth ice ridge between Cho-Oyu and Gyachung (2922m) located in Khumbu region. 19 Gokyo Lakes with the freshwater system in this valley is one of the fascinating features of this trek. Crossing through several wonderful valleys, crystal clear blue and green lakes, glaciers and mountain peaks, this short trek to Gokyo valley can be completed within 10-12 days. Though these trekking packages are made for only 12 days, this short period of time of sufficient for any trekker to explore every corner of the Gokyo Valley.
Everest Luxury Trek is one of the remarkable trekking packages which offers luxurious accommodations during the whole trek in Everest region. This trekking is ideal for those who do not have enough time to trek up to Everest Base camp but eager to appreciate some of the beautiful features of the Khumbu region. This trekking package has been managed in that way which makes trekkers feels like King of the mountains. While trekking in other packages accommodations had to be shared but in this trek, trekkers can spend in top class accommodating houses available in those areas. Even the lodges where you spend the night will give spectacular views of mountains and natural beauty. Apart from luxurious accommodation, this trek offers magnificent views of panoramic peaks, scenic beauty and beautiful villages of this region. Explore the old and ancient Buddhist monasteries, stupas, Chorten etc. which is an ample opportunity for trekkers to know about the unique lifestyle of the Sherpa people of this region.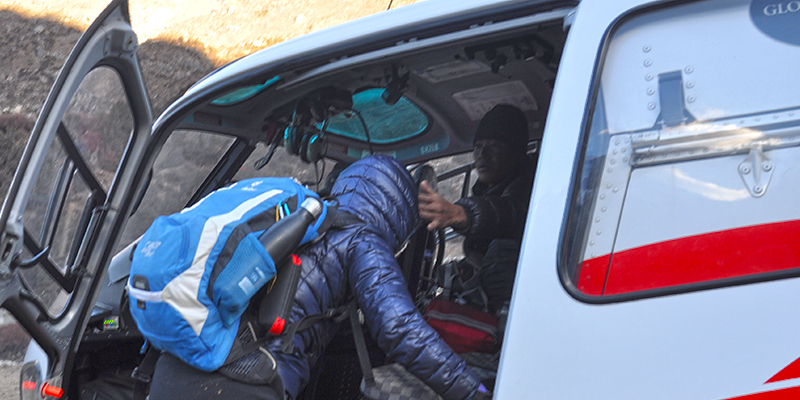 Annapurna Base Camp trek(4130m) is the dream hike for any trekkers through the stunning landscape enjoying the astonishing views of panoramic peaks and mesmerizing scenes. Mt. Annapurna (8091m), the 10th highest peak in the world, is itself a prime factor that people want to experience its amazing view. Including Mt.Annapurna, famous panoramic peaks Mt. Dhaulagiri (8167m), Himchuli (6441m), Tent peak (5663m), Gangapurna (7455m) and Mt. Fishtail (6933m) can be witnessed during the trek. The trail of this classic short trek is covered by the scenic beauty of the Annapurna region, panoramic peaks, superb rhododendron forests, beautiful villages, and landscapes. Experience varieties of flora and fauna during the visit of Annapurna Conservation Area. This trek is also an ample opportunity to experience the culture and tradition of local people living in the Annapurna region. This 12 days trek to Annapurna base camp is best for those who have hunger of exploring the Himalayan region in a short period of time.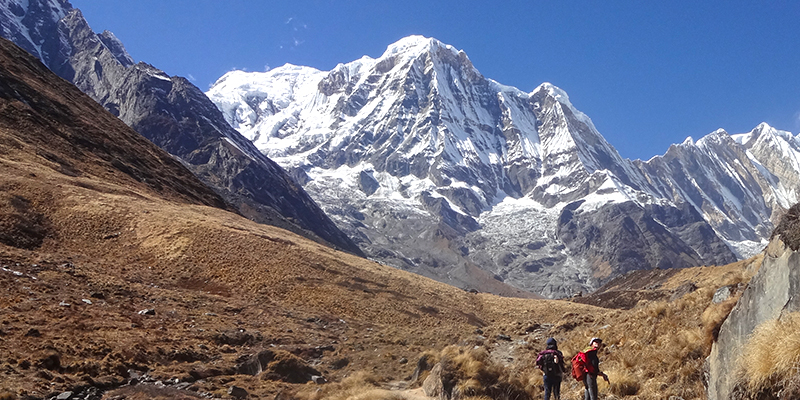 Upper Mustang trek to hidden Kingdom of Mustang region, offers mighty trekking experience in the isolated trans-Himalayan region of Nepal. Upper Mustang is also known as "Mini Tibet of Nepal" and "Mountain Desert".This trek lets the trekkers introduce themselves with Tibetan civilization, Buddhist culture, beautiful Monasteries, Stupas, enormous landscapes, and striking sights of sparkling panoramic peaks such as Annapurna, Nilgiri, Dhaulagiri and many more. The unique charm of this trek is the remote, mysterious and unusual lands.
The people settled down here are migrated from Tibetan and their culture and tradition are totally unique from others. Lo-Manthang (3810m)-headquarter of Mustang district is an equally important destination of this trek where trekkers can experience the warm hospitality of local people living in these remote areas. Trekking in the rough path along the steep rocky trail, this trek is one of the most challenging treks in Nepal. To trek in this region, a special permit is required which has to be issued by the government. This trek also comes under the packages which can be finished within 12 days of the itinerary.